Super Good Nourishing Granola
This is delicious granola that not only tastes good but it's so nourishing for your body.  In addition, this granola contains the super ingredients goji berries, mulberries and ashwagandha. The whole recipe only has 12 ingredients. It's a cinch to make and you can feel good about all the health benefits you will gain from eating this granola.
"Goji berries have the highest concentrations of melatonin and the third-highest antioxidant capacity of any common dried fruit"
Superfoods
Superfoods are nutritionally dense foods that are good for your health. Some well-known superfoods include: blueberries, green tea, dark leafy greens, and turmeric. Here are a few more you can add to your list.
Goji Berries
Goji berries also known as wolfberry, is a bright red berry that is native to China. Goji berries have been eaten for 100's of years since the 3rd century. I love putting Goji berries in my smoothies because it has a nice crunchy chewy texture that feels good in your mouth.  Up the nutrient quotient of your granola and add goji berries. "Goji berries have the highest concentrations of melatonin and the third-highest antioxidant capacity of any common dried fruit — five times more than raisins and second only to dried pomegranate seeds and barberries." Goji berries are also good for your eyes because they have a specific antioxidant called Zeaxanthin which helps protect your eyes from degeneration.
Mulberries
Mulberries somewhat resembles blackberries however they are from two different families. Blackberries grow on a bush while mulberries grow on trees. Mulberries are more of an oval shaped fruit, while the blackberry is more round. In addition, when fully ripe the mulberry is dark red to purple. It also has a more distinctive taste than the blackberry. It is both sweet and tart at the same time. Some of the health benefits of mulberries include: Aid in digestion, helps regulate blood pressure, anti-inflammatory and can help prevent cancer.
Ashwagandha
Ashwagandha is a powerful adaptogen and ayurvedic healing herb used for centuries in India. In herbal medicine, adaptogens are natural substances that are considered to help the body deal and adapt to stress and normalize bodily functions. Consequently, ashwagandha was and is still used for myriad of benefits including: rheumatism, constipation, insomnia, stress, fatigue and more.  This wonder adaptogen comes in powdered form and tastes a little bitter by itself. However, in this granola recipe the powder is perfectly masked by the sweetness of mulberries, goji berries and date paste. You can find ashwagandha such as Sun Potion Ashwagandha Powder in health food stores and online.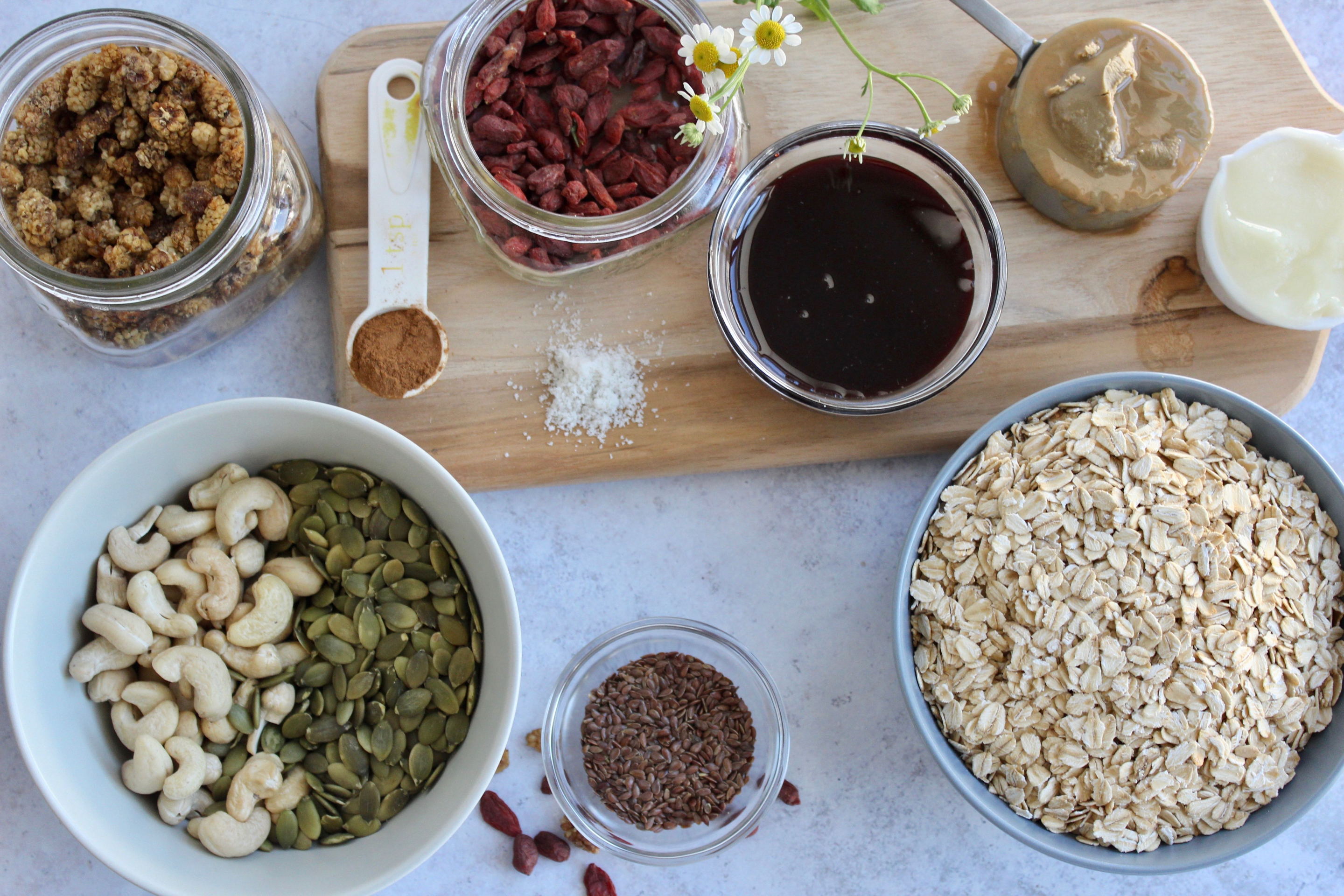 Super Easy Granola
Add all the ingredients except for the goji berries, mulberries and ashwagandha powder to a bowl and mix. Then continue to mix until well-combined. Spread the mixture evenly onto a pan and place into a 300-degree preheated oven for about 20-25 minutes, depending on your oven. Halfway through the cooking process check your granola and mix around on the baking sheet to ensure everything is evenly browned.  Take the granola out of the oven when it is evenly browned, it should still feel a bit soft. Place the mixture into a bowl and add the goji berries, mulberries and ashwagandha powder and mix well. You can spread it back onto the baking sheet to cool. As it cools it will harden to a nice crunchy texture. There you have it — a nourishing granola for your mind and body!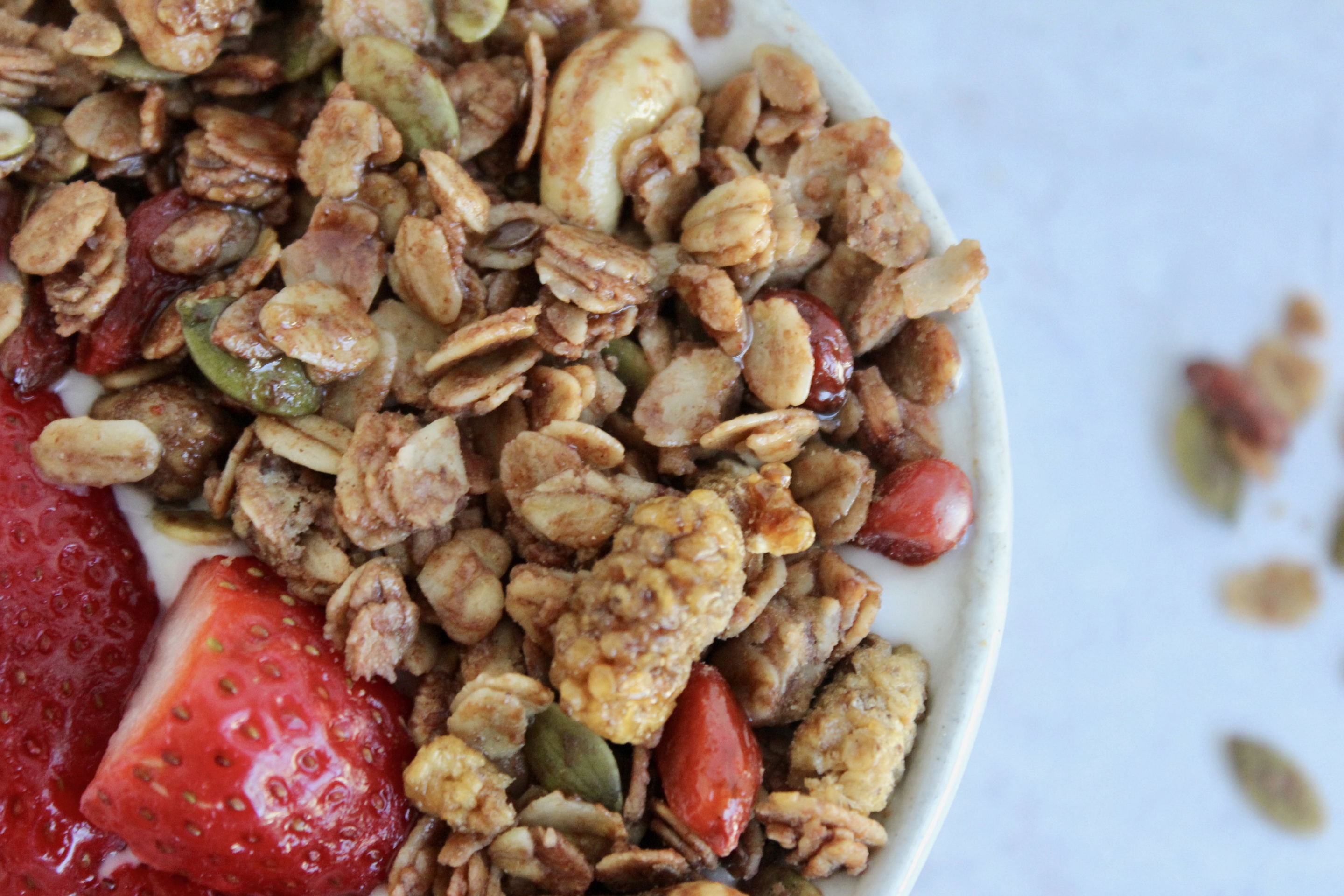 So Many Uses for this Granola
I love to eat this by the handful as a snack or add as a topping to a smoothie bowl, oatmeal or chia pudding.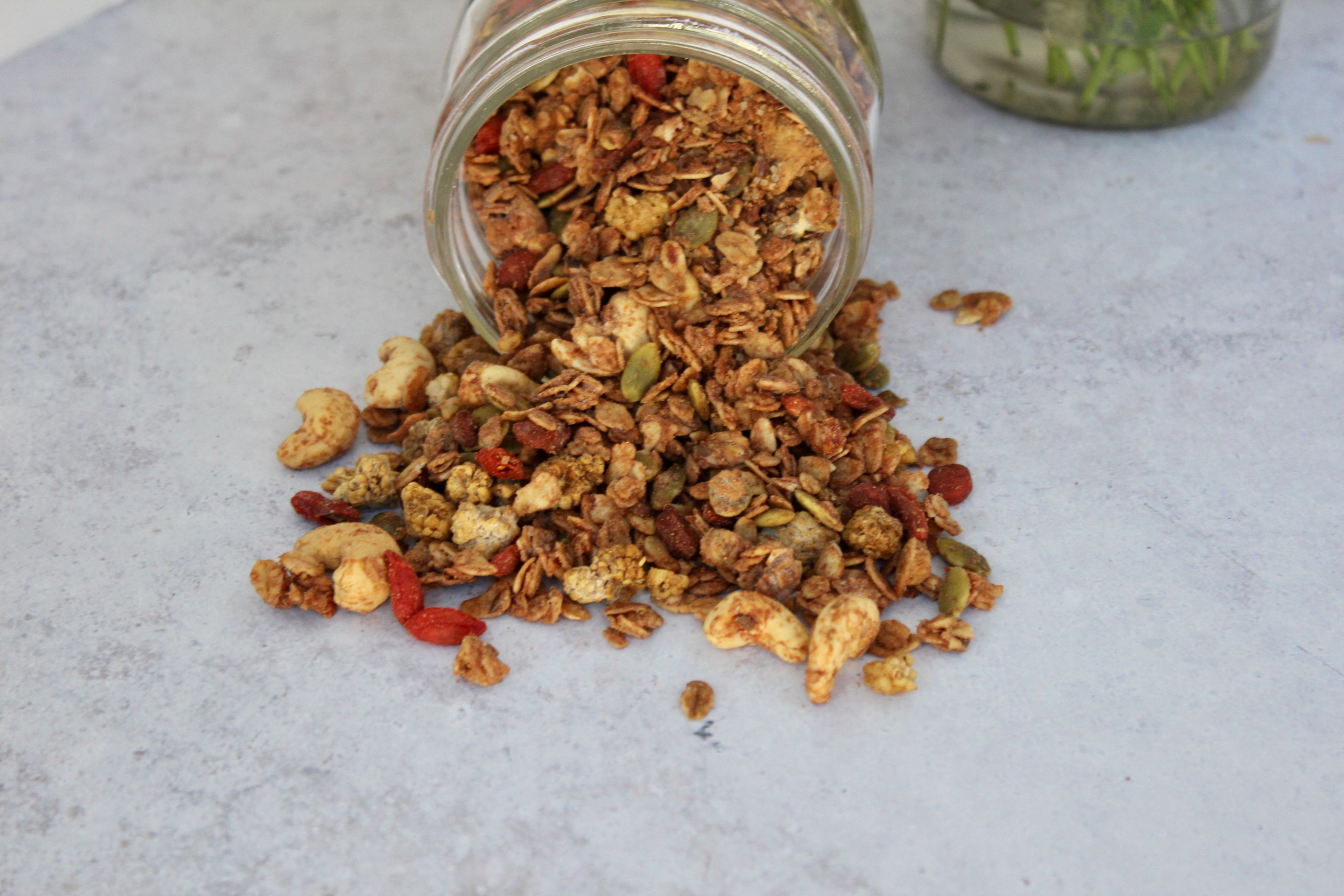 Incredible Granola with Goji Berries and Ashwagandha
Yummy superfood granola
Ingredients
3 cups Old fashion rolled oats
1 cup nuts/seeds (I used ½ cup of cashews & ½ cup of pumpkin seeds)
¼ cup coconut oil
¼ cup almond butter
¼ cup date syrup or date paste*
2 tbsp flax seeds
1 tsp cinnamon
1 tsp vanilla
Pinch of salt
1 Tablespoon Ashwagandha powder
½ cup dried goji berries
½ cup dried mulberries
Instructions
Preheat oven to 300 degrees.
Add the first nine ingredients (up through salt) to a bowl and mix well.
Spread the mixture evenly onto a parchment lined baking sheet.
Bake for 20-25 minutes until golden.
Check every 10 minutes and mix the granola to ensure it is browning evenly.
When the granola is evenly browned take out of the oven, the mixture will still feel a bit soft. It will harden as it cools.
Mix in the Ashwagandha powder and the dried berries and combine well. Allow to cool completely then store in an air tight container such as a mason jar.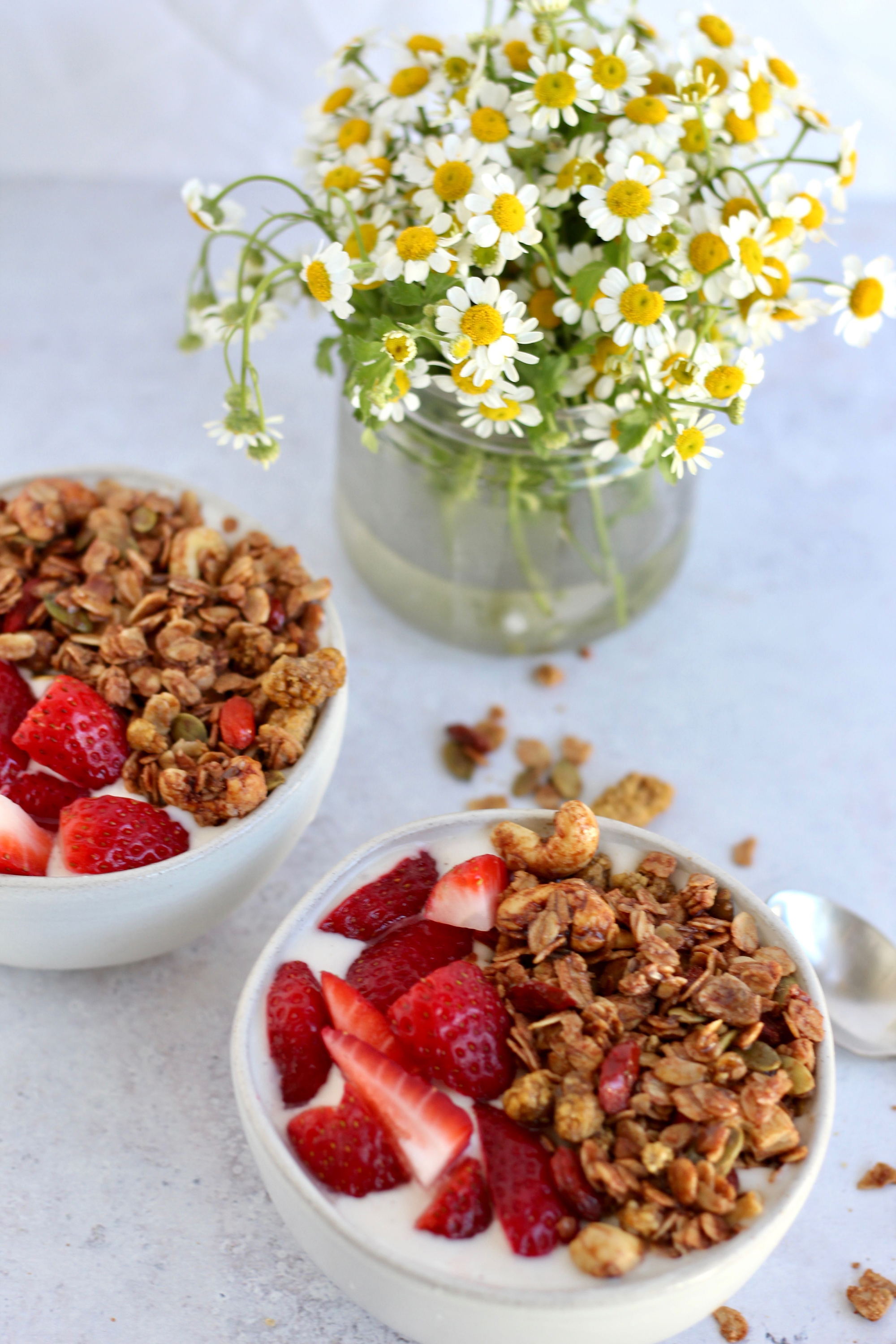 Enjoy!