Ceremonial Matcha Chia Pudding
This plant-based matcha chia pudding recipe is loaded with nutritional value and sublime flavors. Make it your own and elevate your breakfast, dessert or snack time — it's so simple!
Quality Vegan Ingredients — Matcha Chia Pudding Recipe
Matcha Powder
Green tea matcha powder is high in antioxidants and since it's one of the star ingredients in this dish, I recommend using ceremonial matcha grade powder if possible.  Although you can use culinary quality, I prefer to use a premium or ceremonial grade matcha.  You only need a small amount so choosing the highest quality possible makes a noticeable difference.  I selected Ippodo Matcha – Smooth ceremonial matcha powder, one of  my favorites, for this chia pudding.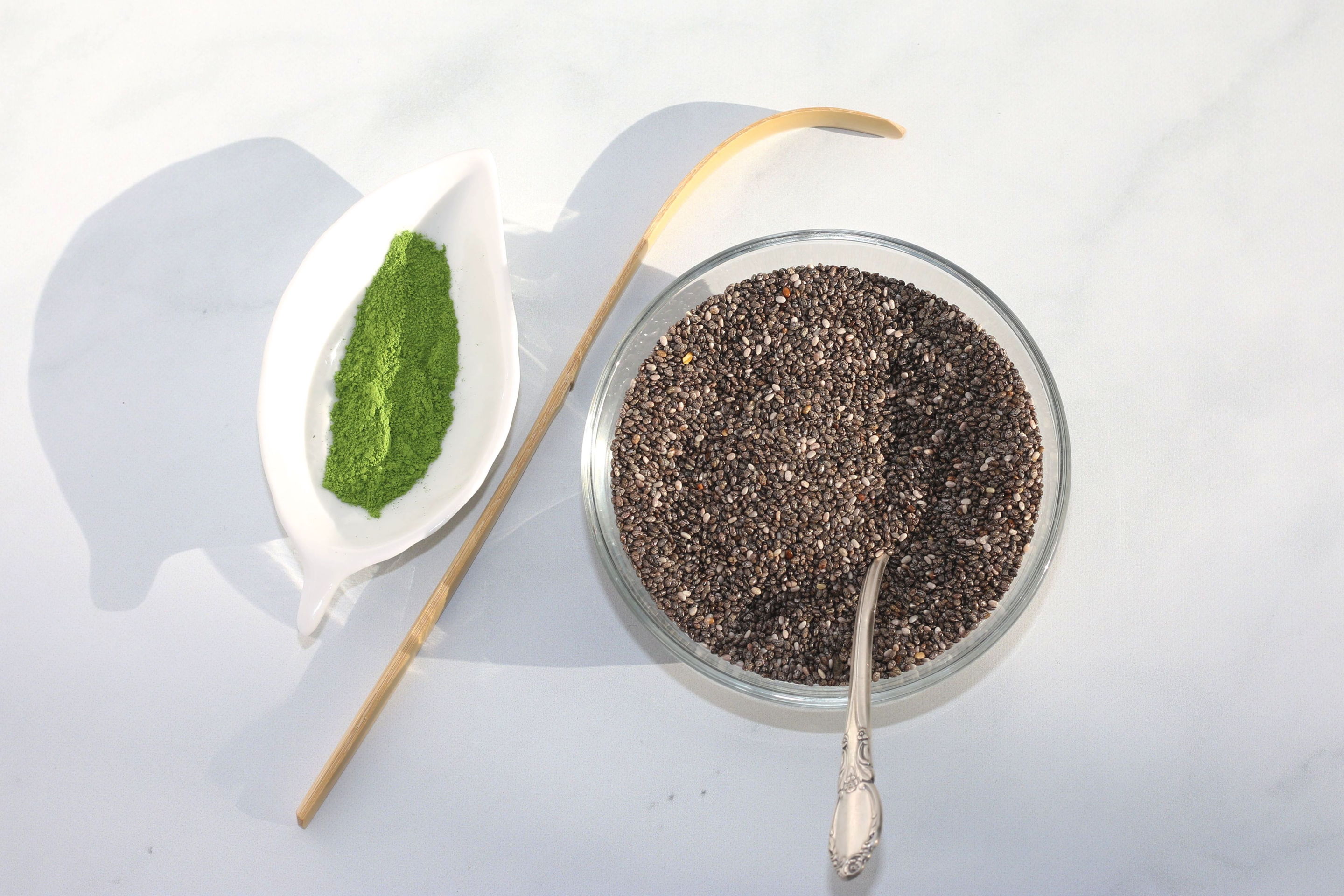 Chia Seeds
Another primary ingredient is the chia seeds. I usually use raw organic chia seeds. What's optimal about chia seeds is that they're an ancient superfood, packed with omega-3, protein, minerals and fiber.
Sweetener
This recipe has a subtle sweetness level, so keep this in mind when choosing the types of sweeteners and even toppings. As far as the dates for your date paste, either Deglet Noor or Medjool dates are fine. Deglets are firmer and have a delicate honey-like flavor profile, while Medjools tend to be sweeter and moister. If you don't have dates or the time to make date paste, date syrup or coconut nectar are good substitutes.
Now if you're really watching your sugar intake, skip the sweeteners and simply rely on the ripe banana in the recipe to provide just a hint of sweetness. Additional superfruit toppings will also boost the flavor and natural sweetness level.
Nut Milk and Coconut Milk
For the nut milk, you can experiment and use a variety of nut milks that are store-bought or homemade. In this recipe, I use unsweetened, plain almond milk and add unsweetened, light coconut milk to keep the sugar and fat content lower, while developing richer flavor.
Toppings
Once the matcha chia pudding is set, top with toppings that complement and don't overpower the matcha essence. Try sliced bananas, blueberries, blackberries, coconut shreds, dragon fruit (pitaya), sliced kiwi, sliced persimmons, pomegranate arils and/or raspberries.
Serving and Storing Your Matcha Chia Pudding
To make your pudding extra fancy, serve it in a chilled dessert bowl or footed glass dish. You can even create a parfait by layering chia pudding and toppings.  Whether you eat it right out of the mixing container (which I have done many times) or a dessert glass, this pudding will be a delicious plant-based treat.
Make it your own and elevate your breakfast, dessert or snack time — it's so simple!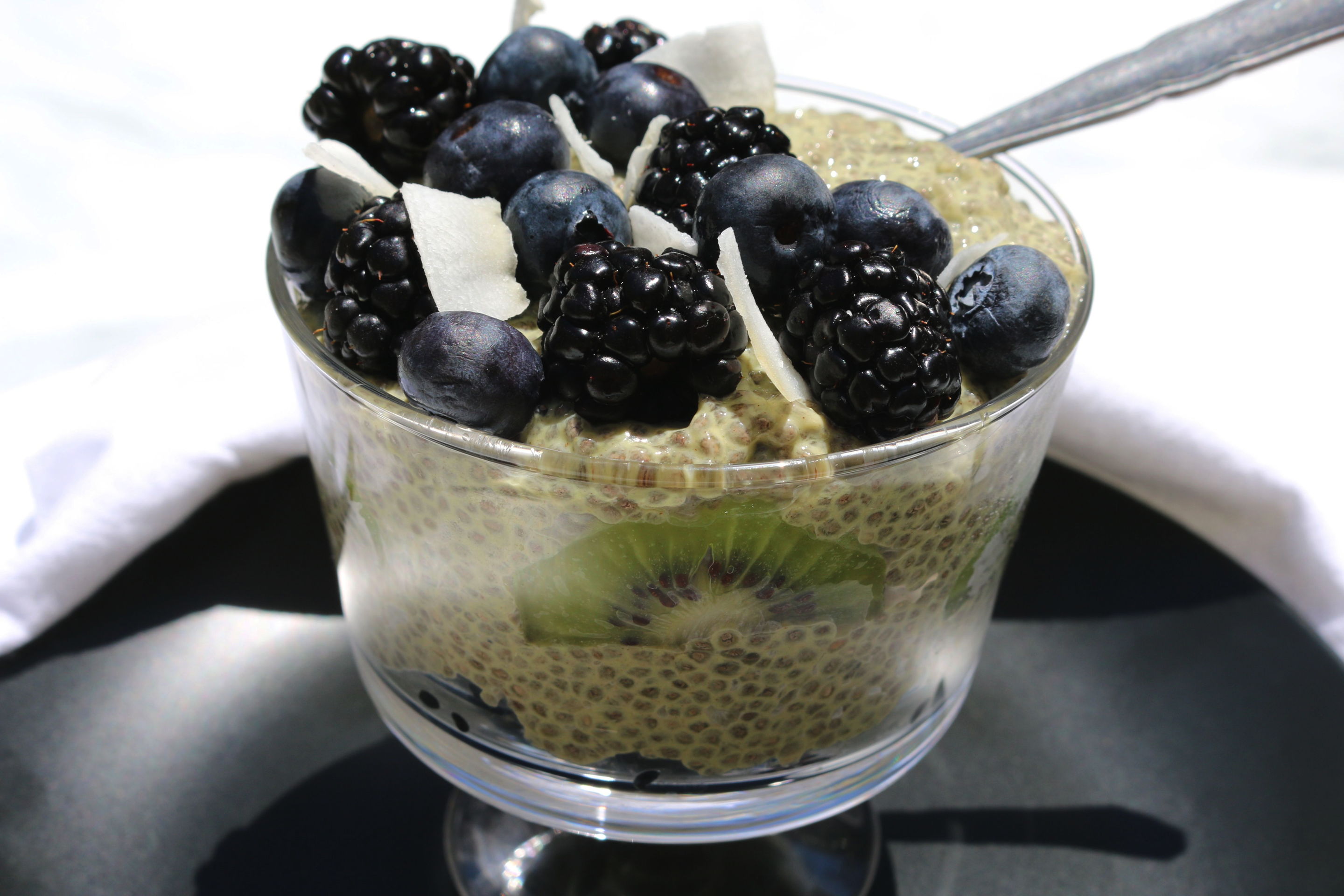 If you have any leftovers, store the pudding in the refrigerator in a lidded container. Ideally toppings should be in a separate container. Your matcha chia should last for about 2-3 days without compromising flavor and consistency.
Green Tea Matcha Chia Pudding Vegan Recipe
This chia pudding is healthy, sublime and can be enjoyed throughout the day. Make this recipe and it could become one of your favorite plant-based vegan recipes, as it is mine!

Sublime Matcha Chia Pudding
This green tea ceremonial matcha chia pudding recipe is packed with flavor and nutrition.
Recipe Type:
Breakfast, Dessert, Snack
Cuisine:
American, Japanese, Vegan
Ingredients
Pudding
¼ cup + 1 Tbsp chia seeds* (see instructions)
1 cup unsweetened plain almond milk
¼ cup light coconut milk
½ medium ripe banana. A medium sized banana is about 6" long, so use ½ of that.
1 tsp date paste** (see notes) or 1 tsp date syrup or coconut nectar as a substitute
¼ tsp Ippodo Smooth ceremonial matcha powder or other high quality matcha powder
Topping Suggestions: (choose your favorites)
Bananas - sliced
Blackberries
Blueberries
Coconut shreds
Dragon fruit (pitaya) - sliced
Kiwi - sliced
Persimmon - sliced
Pomegranate arils
Raspberries
Instructions
Add chia seeds to lidded container and set aside.
In a Vitamix or other high-powered blender, add almond milk and light coconut milk.
Sift matcha powder to eliminate clumps and add to liquid in blender.
Add banana and date paste (or date syrup or coconut nectar) to blender.
Blend all ingredients until completely mixed with no clumps/chunks.
Add blended ingredients to chia seeds in container.
Hand stir with spoon (not blender) until all ingredients are evenly incorporated.
Chill mixture in covered container in refrigerator.
Stir ingredients gently after 1 hour to ensure even consistency and no dry spots of chia clumps.
*(Optional) Increase the chia seeds based on consistency preference. If you want a thicker pudding, add a Tbsp at a time and wait an hour before checking consistency.
Refrigerate for about 2 - 3 hours until set. You may need more or less time depending on your refrigerator temperature. I usually like to chill my chia pudding overnight.
After chia pudding is set, spoon into serving dish, top with your selected toppings and enjoy!
Notes
**Date Paste:
1 cup Deglet Noor dates (or pitted Medjool dates) – packed and 1 cup water. Soak dates in water to soften for about an hour then drain and save the soaking water, set aside. Place the dates in blender or food processor add a few Tbsps of the soaking water into the blender and puree until creamy. Add more soaking water as necessary. Refrigerate extra date paste for other
True Forage recipes
!

Enjoy!