Black Bean, Sweet Potato, Guac Burger
This by Chloe inspired vegan burger is so good even meat eaters will love it!  Easy to make and full of protein. Make ahead tip: bake the sweet potatoes ahead of time and keep them in the fridge for when the craving hits, you can make these amazing burgers in a snap. The combination of black beans and sweet potatoes work so well together for a nice balance of flavor.
You should always have a couple cans of black beans lying around in your pantry. It's such a versatile bean. You can use them in salads, tacos, casseroles and of course this black bean vegan burger.
Black Beans are a Great Source of Vegan Protein
The ingredients in this dish are so nutrient dense.
Black beans are a great source of vegan protein and has high amounts of a variety of key vitamins and minerals such as vitamin K, potassium and folate. You can read more about it here.
Sweet Potatoes are High in Fiber
Sweet potatoes are also high in fiber and may help with the prevention of diabetes and cancer. In fact the Okinawans in Okinawa, Japan eat a lot of sweet potatoes. The Okinawans are known to have the highest life expectancy of any place in the world.
Spinach is an Excellent Source of Folate
Spinach is an excellent source of folate and antioxidants, it also has a lot of benefits in preventing many kinds of cancer and can help protect you from some degenerative diseases  In addition spinach is awesome,  it has 2.9 grams of veggie protein per 100 grams with only 23 calories. And spinach has more iron than a hamburger patty.
Quick, Easy Plant-Based Recipe
If you like things quick you can prep this vegan burger ahead of time. Baked the sweet potato a couple days ahead of when you think you'll want it. Additionally, prep the quinoa a day before.  If you have those two things ready, you are good to go.
Once you dice and cook the onions it goes real fast. Mash the black beans in a bowl then add the onions, sweet potatoes, quinoa and the rest of the ingredients.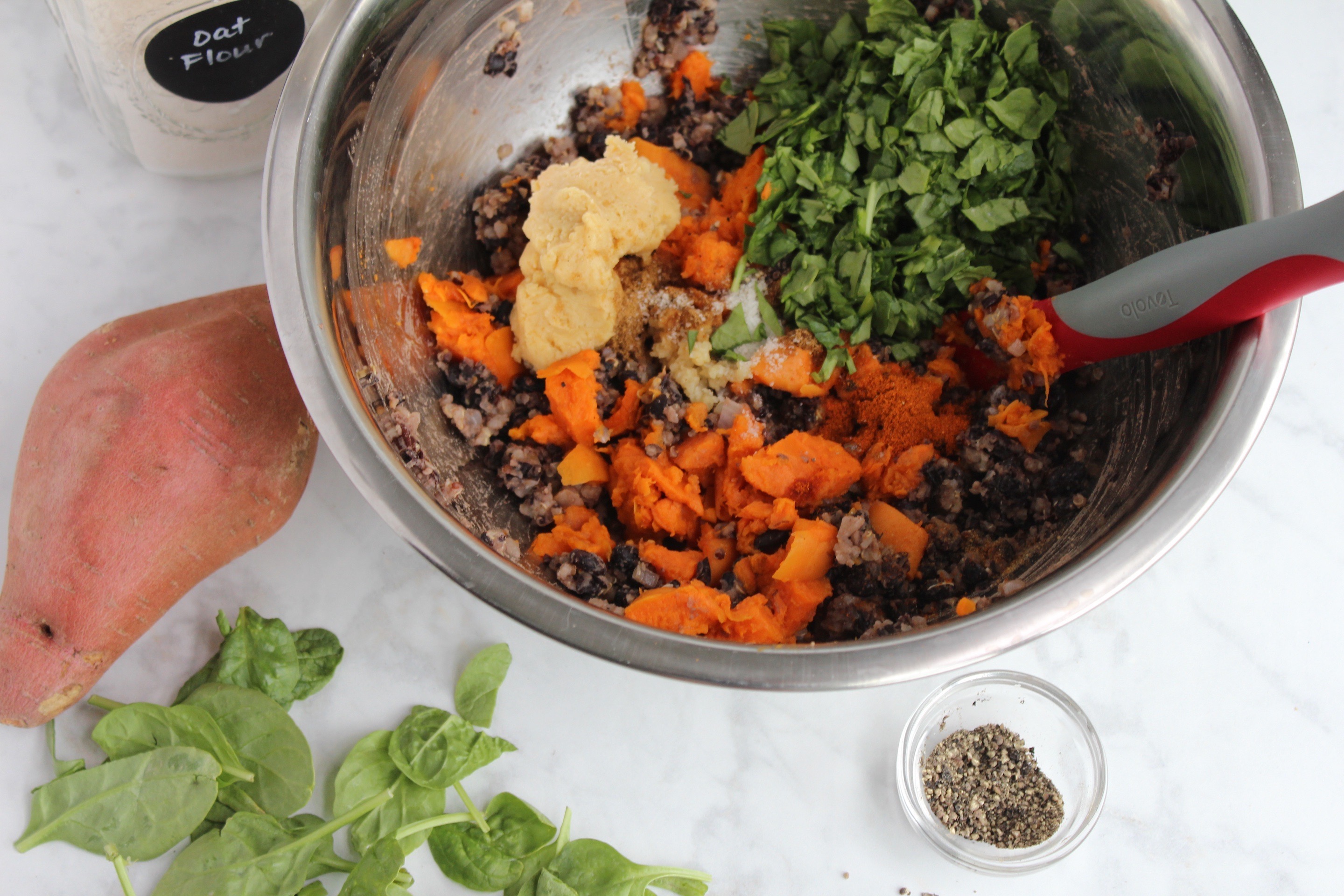 Combine Burger Mixture to Make Patties
For the oat flour I start with ¾ of a cup.  Mix and combine the oat flour into the patty mixture. If there is still a lot of moisture add more oat flour, a tablespoon at a time until it has a good consistency to make into a patty.  Then scoop up a golf ball sized handful of the vegan burger mixture or whatever size you want your burger. The mixture will be sticky. Add oat flour to your hands to help prevent the mixture from sticking to your hands. Flatten the ball into a patty and place on a parchment lined baking sheet.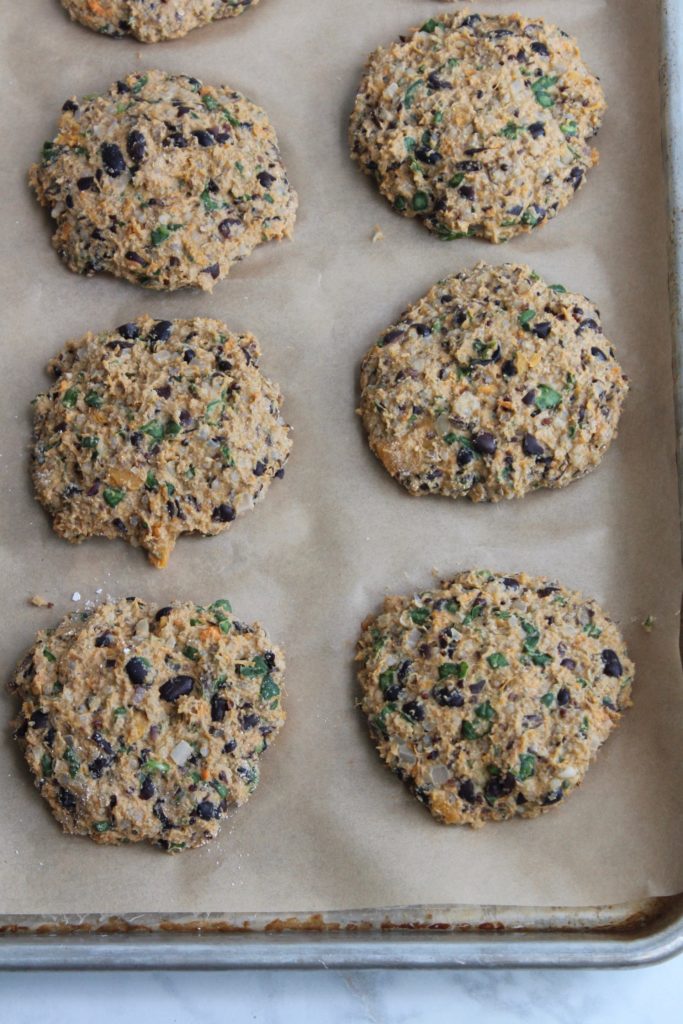 Place the baking pan into the oven at 375 degrees F for 20 minutes. 
Watch for the patties to be somewhat firm and golden then take out of the oven and cool for a few mins on the pan.
Assemble Your Burger
Assemble your burger with green lettuce, tomato, red onion, and guacamole topped with tortilla strips.  Add some condiments like mustard and ketchup and consider adding this delicious garlic aioli. Just in time for the summer holidays. Make this burger today!

Sweet Potato, Black Bean Guac Vegan Burger
A crave worthy plant-based burger. The black beans provide lots of protein and the sweet potato is loaded with fiber, vitamins and minerals.
Ingredients
1 medium sweet potato (about 1 ½ cups cooked)
1 ½ cups cooked black beans (1 - 15 oz can, drained), smashed
1 cup cooked quinoa
½ medium onion (about ¾ cup), diced
2 tbsp tahini paste
1 tsp apple cider vinegar
1 garlic clove, minced
1 tsp cumin
½ tsp sweet paprika
½ tsp sea salt
¼ tsp freshly ground black pepper
1 cup finely chopped spinach or kale
¾ - 1 cup oat flour
Additional items: burger buns, guacamole, green lettuce, tomatoes, red onion, tortilla chips or strips
Instructions
Preheat oven to 400 degrees F and bake the sweet potato for 40-60 minutes, or until tender. In the meantime prepare the rest of your ingredients.
Heat a pan over medium to medium-high heat. Once hot, dry saute the onions until they are translucent and soft. If you prefer you can also saute with a little oil. Once done set the onions aside.
Add the black beans to a large mixing bowl and smash them with a fork. Add the onions and quinoa to the bowl. Once the sweet potato is done, remove it from the oven (drop the heat down to 375) and let it cool until you can handle, peel and add it to a mixing bowl with the beans and onions. Alternatively, you can add all the ingredients to a food processor and pulse until the mixture is slightly chunky.
Next, add the tahini, vinegar, garlic, cumin, sweet paprika and the chopped spinach, as well as a pinch of salt and freshly ground pepper.
Lastly, add a bit of oat flour and mix to combine. Continue to add the oat flour until the burgers hold together nicely. Usually, it takes about ¾ cup but you may need more depending on the moisture of your sweet potato.
Taste the mixture and add more salt of pepper.
Use a mold or your hands to shape the mixture into 8 burgers. This recipe makes about 8 good sized burgers, however if you want smaller burgers the exact amount will vary.
Place the burgers on a parchment lined baking sheet and bake in preheated oven for about 20 minutes or until they turn a nice golden color.
To serve, toast some buns and serve with: guacamole, tomato, lettuce, red onion, and 1 cup tortilla chips or strips.
Leftovers will keep in the refrigerator for a few days. It also freezes well for longer storage.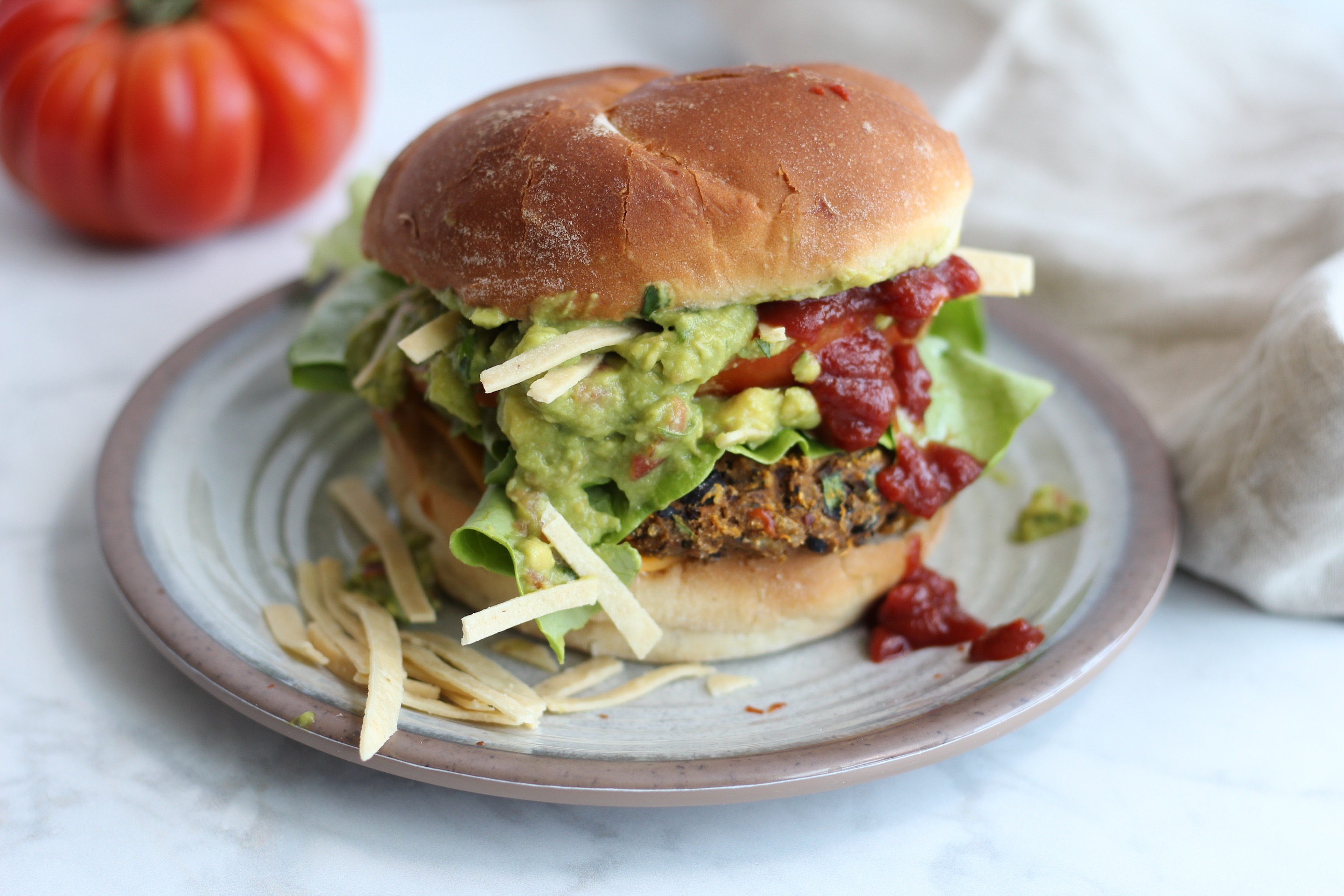 Enjoy!