Exotic Spiced Pumpkin Vegan Mini Muffins
These ginger pumpkin spice mini muffins are a perfect treat for any time of the day. Try serving them with your favorite cup of tea or herbal infusion at your next tea party!
The spices that enhance the flavor and nutritional value of these muffins include cardamom, cinnamon, cloves, cumin, ginger and nutmeg. They're not overpowering, but rather offer a delicate balance of exotic flavors that makes these muffins taste just right. You can adjust the spices according to your preference – if you love cinnamon, then add a little more, not a fan of cloves, then don't add, and so forth. That's the beauty of this recipe, you can make it your own without compromising the deliciousness factor.
I hope you like these mini muffins as much as my friends and family do. These plant-based vegan treats are low in sugar, with a hint of sweetness. In this recipe I use a combination of spelt and teff flour. I've also used gluten-free flour in the past with tasty results. The gluten-free vegan muffins were slightly chewier and not as airy but still very yummy.
Suggested tea or herbal tisane pairing: Try oolong or green tea, chamomile, turmeric or butterfly pea flower herbal tisane

Vegan Ginger Pumpkin Spice Mini Muffins
Make these easy vegan ginger pumpkin spice mini muffins for a perfect bite-sized treat.
Recipe Type:
Dessert and Snack
Cuisine:
Vegan Dessert and Snack
Ingredients
2 cups canned pumpkin
⅓ cup apple sauce
½ cup unsweetened plain almond milk
¾ cup coconut sugar (1/2 cup if want less sweetened mini muffins)
1 cup spelt flour
¾ cup teff flour
1 tbsp baking powder
1 tsp baking soda
¼ tsp salt (Optional). If using, recommend: Celtic sea salt or Himalayan salt)
¼ tsp ground cumin
¼ tsp ground cardamom
2¼ tsp ground cinnamon
½ tsp ground nutmeg
¾ tsp ground ginger
¼ tsp cloves
Garnish (Optional)
Instructions
Preheat oven 375 degrees
Lightly grease mini muffin pan. If you have a good non-stick pan, you can skip this step.
Mixing bowl: Add pumpkin, apple sauce, almond milk and coconut sugar. Mix until ingredients combined.
Mixing bowl: In another bowl, sift your flours. Add baking powder, baking soda, salt, cumin, cardamom, cinnamon, nutmeg, ginger and cloves. Mix and add to bowl with wet ingredients.
Gently stir all ingredients until combined. Hand stirring/mixing is fine for this recipe.
Fill mini muffin pan with batter. I used a 24 mini muffin pan.
Top with garnish: Optional. Walnuts or dried fruit. Top the mini muffins with garnish of your choice. I especially like the walnuts because they add a healthy toasted crunch.
Bake at 375 F for 18-22 minutes (may be sooner or later depending on your oven). Test with cake tester at 18-20 minutes to make sure you don't overbake since they generally need less time that regular sized muffins.
Cool on cooling rack (recommended) and enjoy these vegan mini treats!
Notes
Enjoy these mini muffins with your favorite cup of tea or herbal tisane!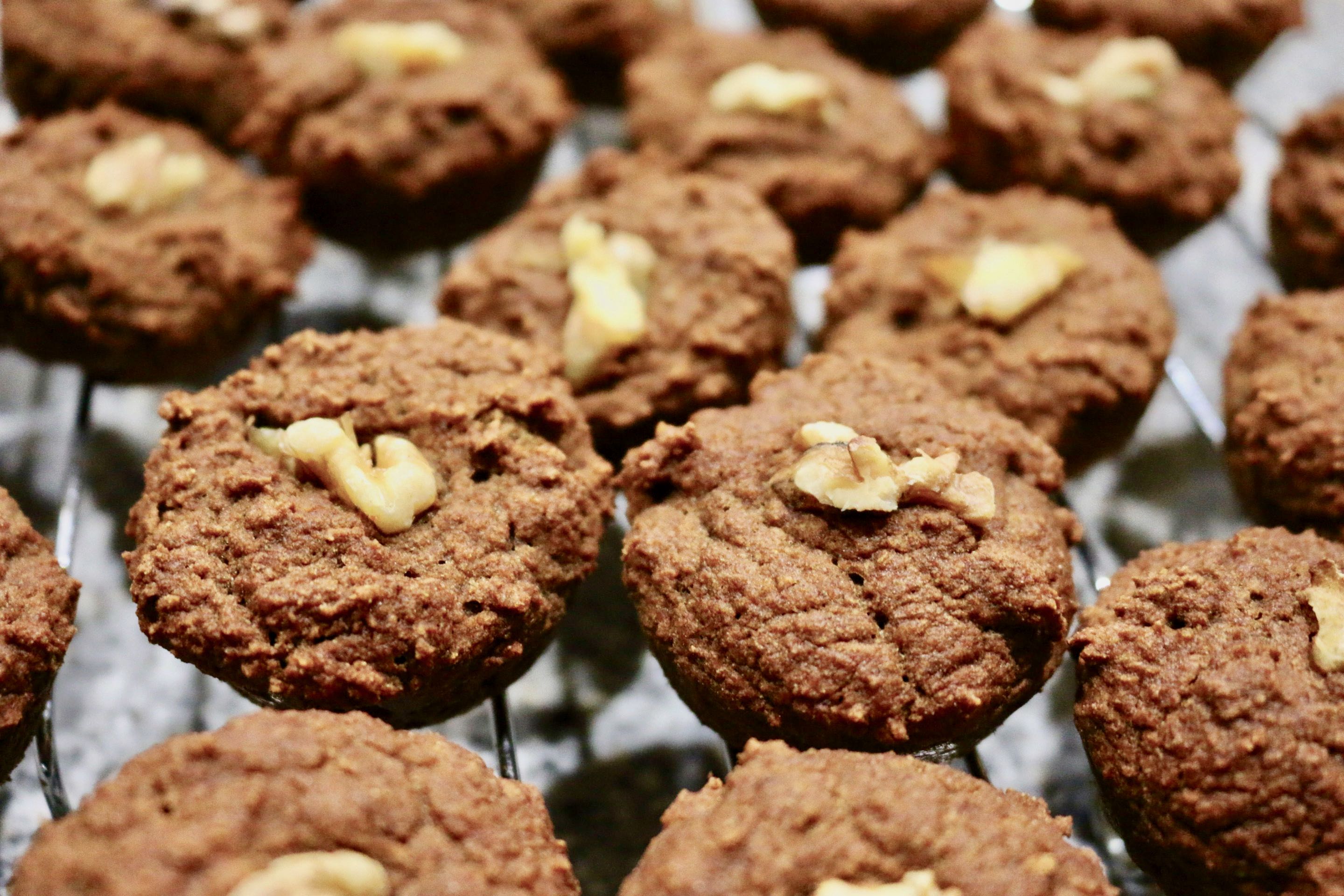 Enjoy!