Butterfly Pea Flower Tea Enchants
Are your eyes playing tricks on you? No blue butterfly pea flower tea is actually an herbal infusion or tisane derived from the butterfly pea plant (scientific name: Clitoria ternatea L.) and it has enchanting qualities. It's native to Southeast Asia and has gained popularity throughout the world because of its natural allure.
Transformational Blue Butterfly Pea Flowers Tisane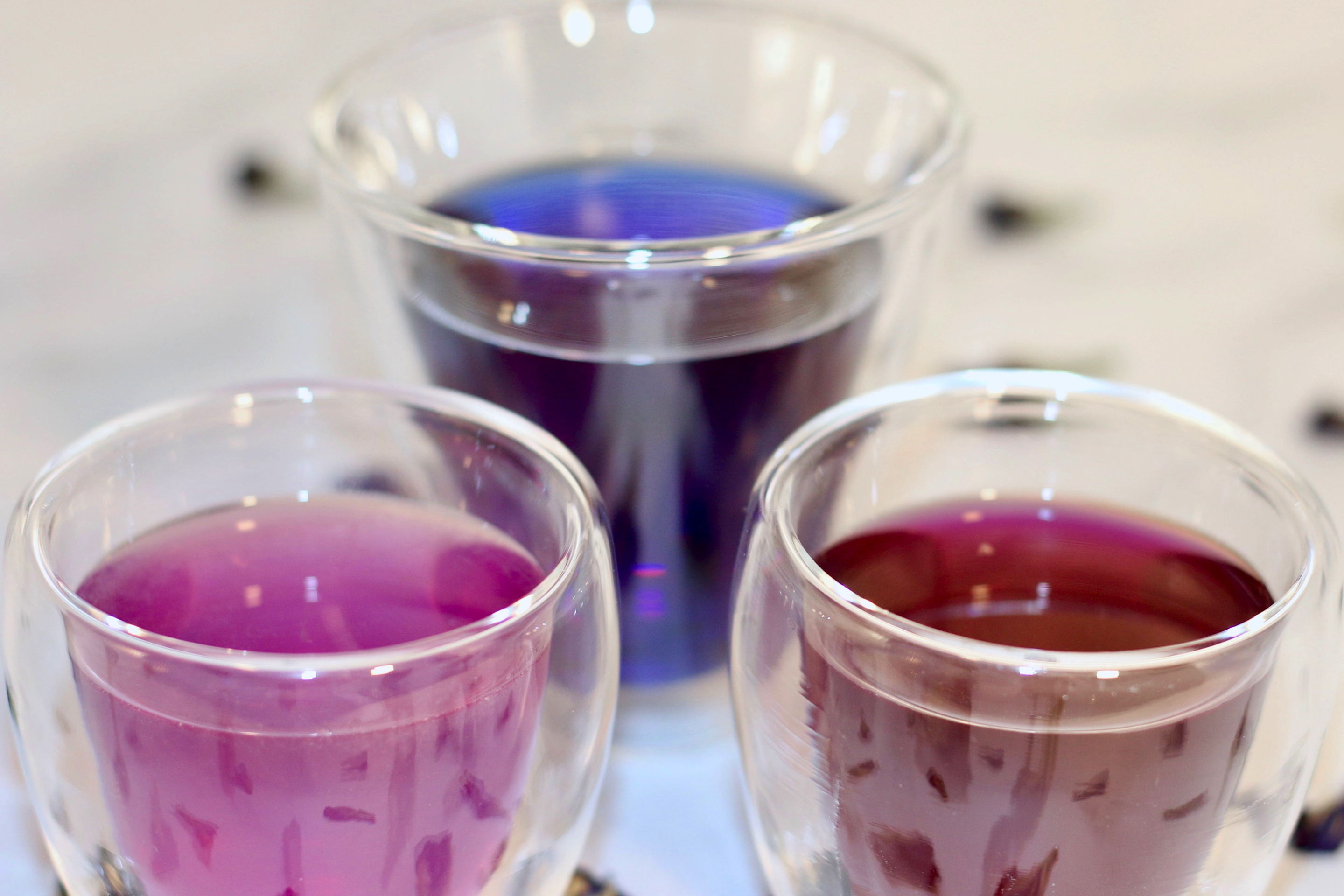 Start steeping it for a vibrant blue colored infusion. Then the fun begins when you change its pH level. Transform it to a purple or pink tea by adding a squeeze of lemon or lime. You'll also increase your antioxidant levels with the addition of citrus juice. Add dried hibiscus flowers to morph it into a red brew. Or, experiment with other additions — this rainbow-inspired herbal tea captures the imagination. Some butterfly pea flower teas include a blend of lemongrass or other ingredients, so check the label.
Benefits and Uses of Blue Butterfly Pea Flowers Herbal Infusion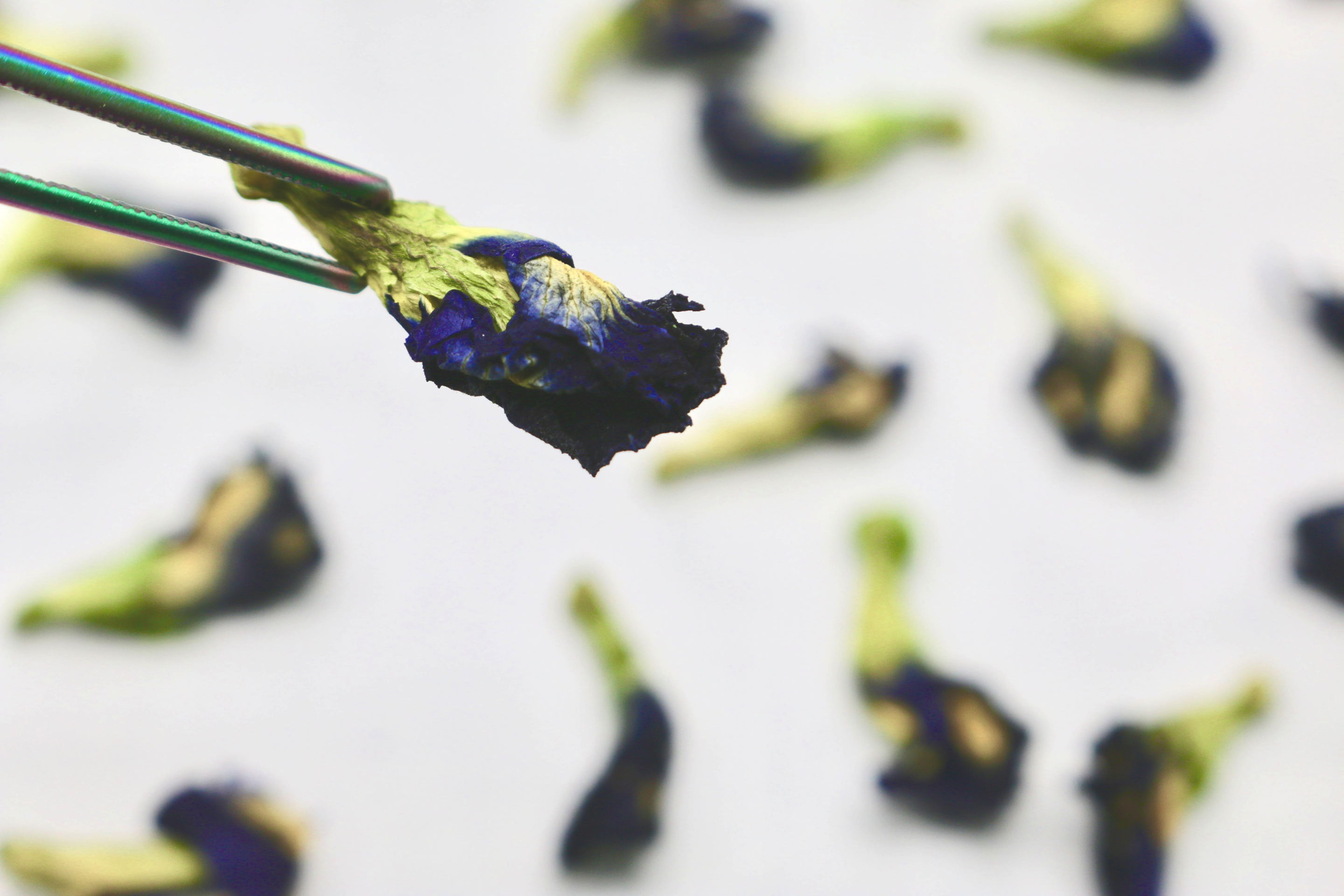 It's not just a pretty plant. Butterfly pea is used in Ayurveda and may have multiple health benefits, including reducing inflammation, improving skin elasticity, boosting immunity, reducing pain and more.
The blue butterfly pea flower is also used for natural food coloring and is a popular ingredient for mixed cocktails, mocktails and other food and beverage recipes because of its wow factor. For a lovely and edible garnish add a sprinkle of these flowers to enhance your food plating.
Tasting Notes on Butterfly Pea Tea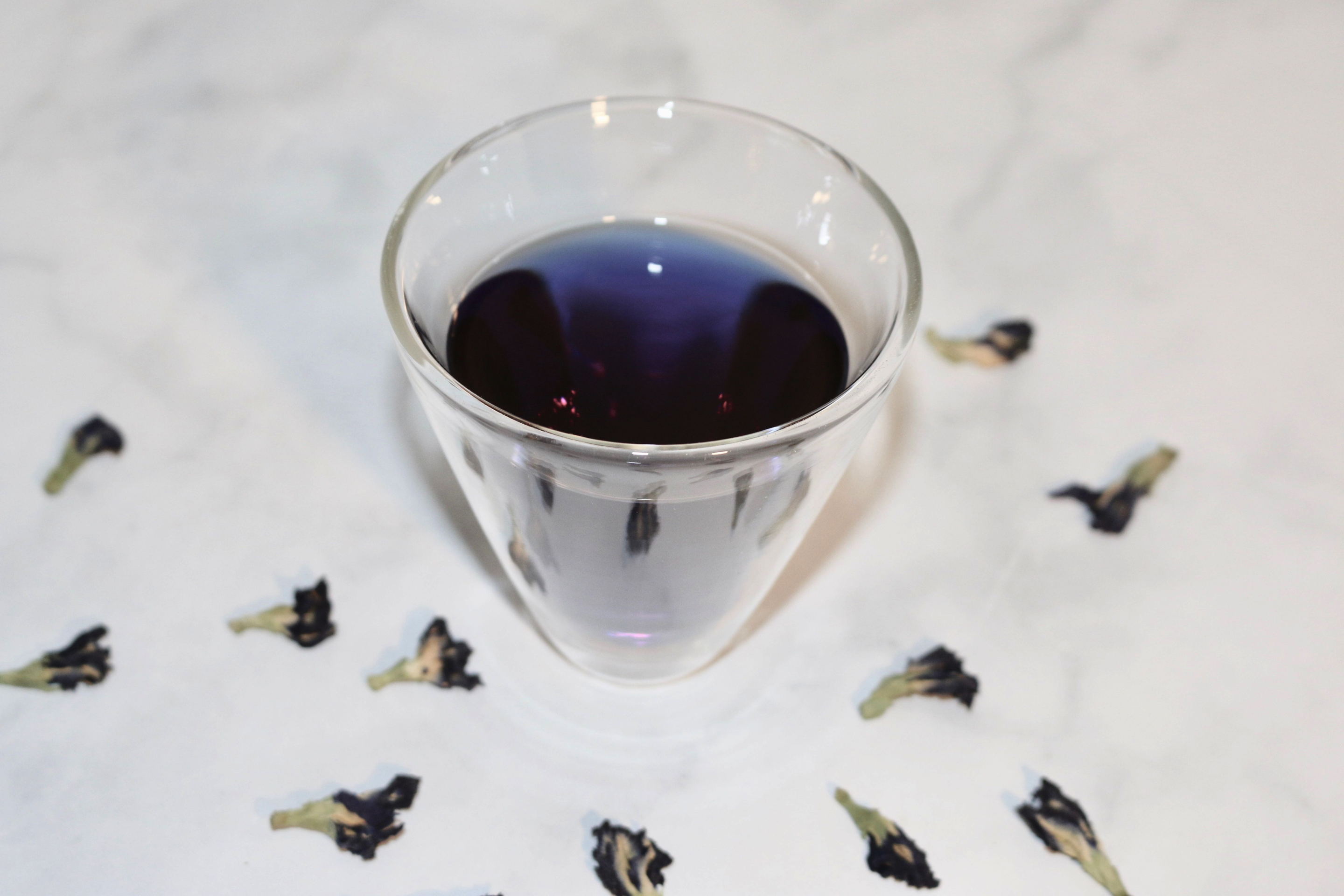 The dried flowers have a subtle, floral aroma and flavor, making them a great topping alternative to fresh edible flowers. There was a combination of aromas and tastes from earthy/wood, herbaceous/herbs and floral/garden flowers depending on the steeping. After adding the lemon/lime components, the fresh fruit/citrus notes blossomed.
If you really want to get into tea tasting, flavors and aroma, check out the Tea Aroma Wheel from the International Tea Masters Association (ITMA) or the Australian Tea Masters Tea Flavour Wheel (available in multiple languages).
Tea tasting is subjective and each individual can have a different experience. So don't get lost in all the technicalities. Discover your personal brew and savor the moment for a dose of wellness.
How to Make Multicolored Butterfly Pea Flower Tea
Try this caffeine-free herbal infusion for your next cup of tea. Include it in your smoothie, juice or other healthy vegan recipes for antioxidants and a pop of color.
We found Organic Blue Butterfly Pea Flowers Tea from Culture Club 101 in Altadena, CA and USDA Certified Organic Blue Butterfly Pea Flower Tea on Amazon. You may also find this herbal tea in dried flower or powder form at your local natural grocery or herb store.
This tisane is easy to make in all its variations. Give this herbal infusion recipe a try and get ready to be captivated by its plant-based powers.

Magical Blue Butterfly Pea Flowers Tea
Blue Butterfly Pea Flowers "tea" is easy to make. Since it's actually from the butterfly pea plant, not camellia sinensis, it's actually a tisane or herbal influsion. Get ready to be mesmerized by its color-changing properties!
Recipe Type:
Beverage, Tea, Tisane
Ingredients
Organic Blue Butterfly Pea Flowers (Dried)
Water
Lemon (optional)
Lime (optional)
Hibiscus flower dried (optional)
Sweetener (optional)
Instructions
Heat water to about 212 degrees/boiling for herbal infusion/tisane
Place about 7-10 flower blossoms per 8 oz. water into infuser (infuser ball, bag, teapot or other accessory with built-in infuser)
Pour water into tea cup or vessel
Cover and steep at least 5 minutes or longer until desired strength and flavor
Add sweetener (optional)
Serve hot or cold* (see notes if serving cold)
You can make 1-3 steepings depending on your taste
Enjoy!
Notes
Add hibiscus and it'll turn red
Add a squeeze of lemon or lime to turn it purple or pink
*For cold preparation, wait for infusion to cool and then add ice cubes to serving container and serve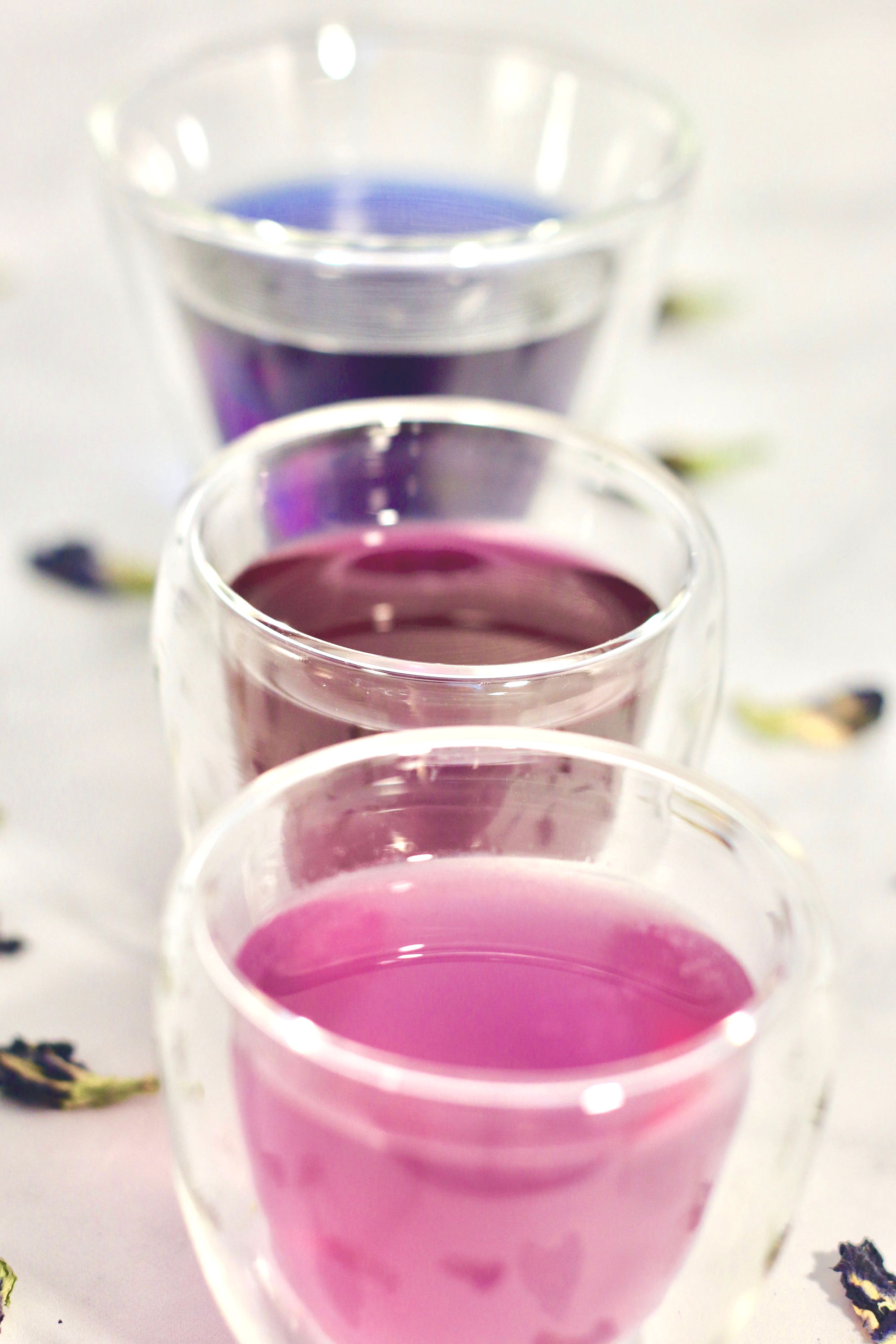 Enjoy!