Savory Oil-Free Vegan Garlic Aioli
I love sweet potato fries! And I love them even more with this oil-free garlic aioli. I never really liked mayonnaise in my pre-vegan days. The thought of egg yoke and oil mixed together almost makes me want to gag. Sorry for the visual but I was just not a fan.  However, this oil-free aioli is so creamy, savory and delicious. Perhaps I might just be biased, knowing all the ingredients in here are plant-based ingredients. Whatever the case, it's really, really good. I put it on my sandwiches. I dip my fries in it and even used it over nachos. Believe me you just have to try it!
This creamy, flavorful oil-free dip is great as a sandwich spread or a dip for sweet potato fries.

Oil-Free Garlic Aioli and Sweet Potato Fries
his is a great dip for sweet potato fries or as a sandwich spread
Recipe Type:
Appetizer + Sides + Snack
Ingredients
1 cup raw cashews (soaked*)
¾ cup unsweetened almond milk
3 Tbsp lemon juice
1 Tbsp date paste** or 1 soaked Pitted Date (you will need to soften the date so it blends well)
3 tsp minced garlic
¾ tsp salt
Optional: 3 Tbsp Aquafaba (liquid from canned chickpeas) for creaminess
Instructions
Add all ingredients in the order above, except aquafaba, to a high speed blender.
Blend the ingredients till pureed.
Turn the blender back on to medium and slowly add in the aquafaba.
Store in a glass container or mason jar. Will last about a week to 10 days.
Notes
*Soaked Cashews:
Pour 1 cup of boiled water onto the raw cashews, let it soak for 1-2 hours or overnight. Drain water.
**Date Paste:
1 cup pitted Medjool dates (or any other date - Deglet Noor dates work too) – packed and 1 cup water. Soak dates in water to soften for about an hour then drain and save the soaking water, set aside. Place the dates in blender or food processor add a few Tbsps of the soaking water into the blender and puree until creamy. Add more soaking water as necessary.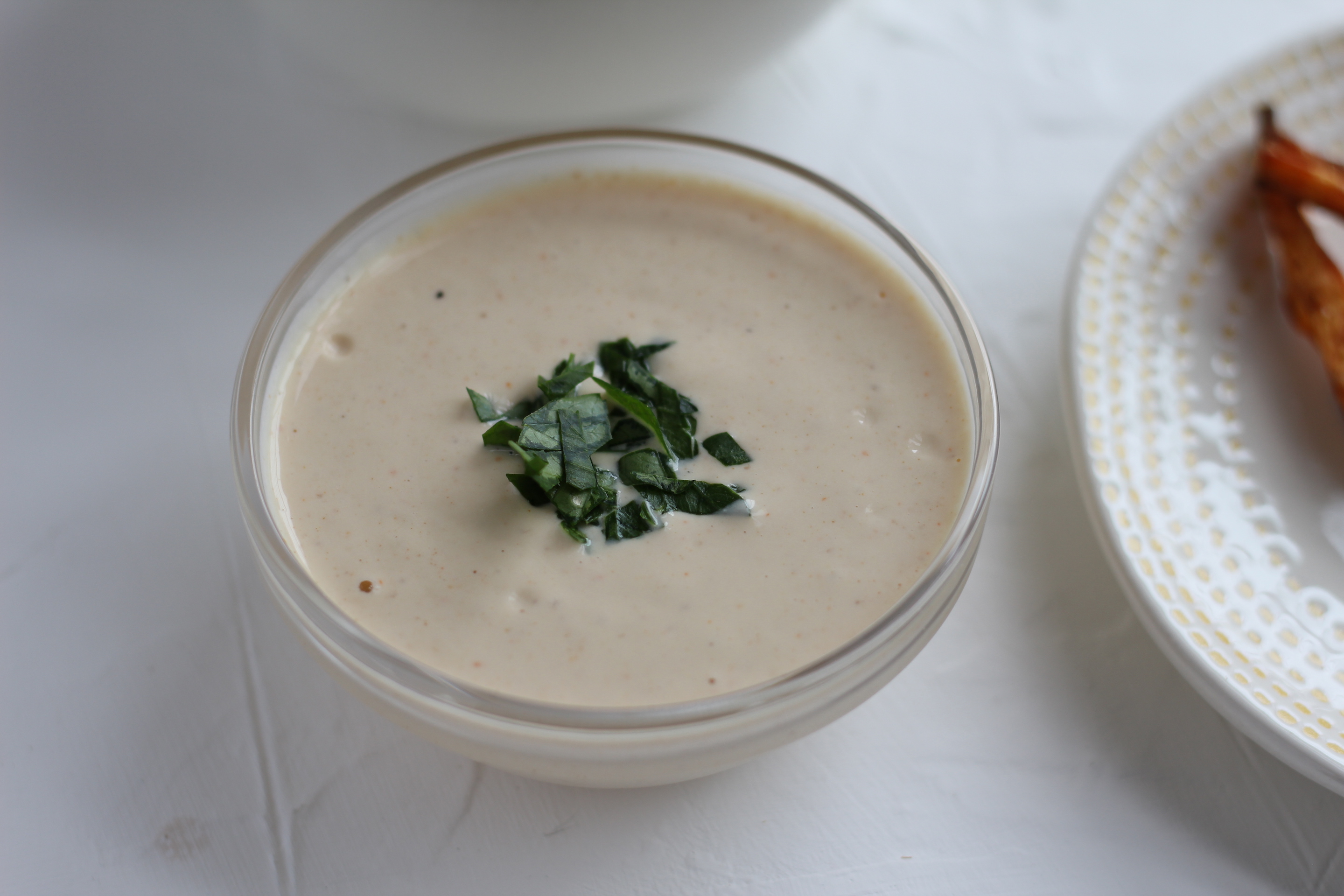 Enjoy!