Vegan Roasted Rainbow Carrot Recipe
Vegetal, simple, sweet, tender, roasted rainbow carrots. You can get these sweet organic rainbow carrots at the farmer's market. They are much smaller than the robust carrots you may find at the grocery stores but they pack in so much more taste than regular carrots.  These carrots add a fun element of color to your table.
Variety is Key to Getting All Your Nutrients
When you are on a plant based diet variety is key to getting all your nutrients. Carrots are so good for you and loaded with beta carotene which may help reduce your risk of certain types of cancer. Interestingly enough, "antioxidant availability from carrots increases when cooked, regardless of the cooking method." Wow, even without this fact, you don't need to convince me to eat roasted carrots.
Carrots are so good for you and loaded with beta carotene
Roasted Rainbow Carrot Ingredients
Only five ingredients for this flavorful side dish! Rainbow carrots, extra virgin olive oil, salt, pepper and lemon. That's all you need. There's no need to peel them, carrot skin is perfectly fine to eat. Just be sure to scrub the carrots with a produce brush to get rid of the debris.  Additionally, if your carrots are wider than an inch thick cut them in half. Leave about an inch of stem at the top. Of course if you don't have the rainbow carrots you can absolutely use your regular orange carrots but I do recommend getting them from the farmer's market. They taste a bit sweeter to me.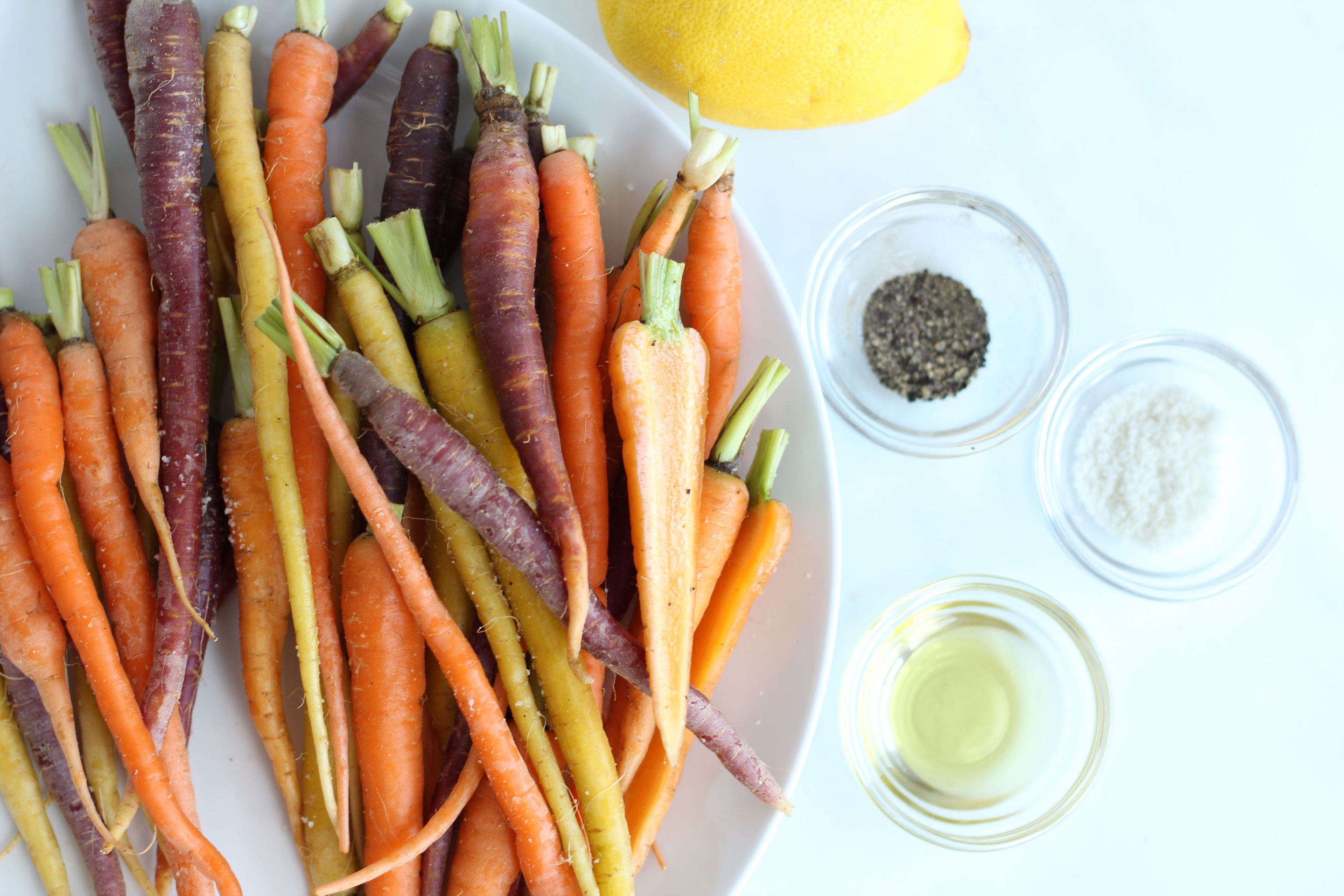 First of all, toss the rainbow carrots with olive oil, salt and pepper, then place them on a parchment line baking pan. Next place the pan into a 425 degree F preheated oven and bake for 20-25 minutes until the carrots are caramelized and tender. This part took a little over 22 minutes in my oven. Keep checking after 20 minutes, you don't want them to burn. When they look ready take them out of the oven.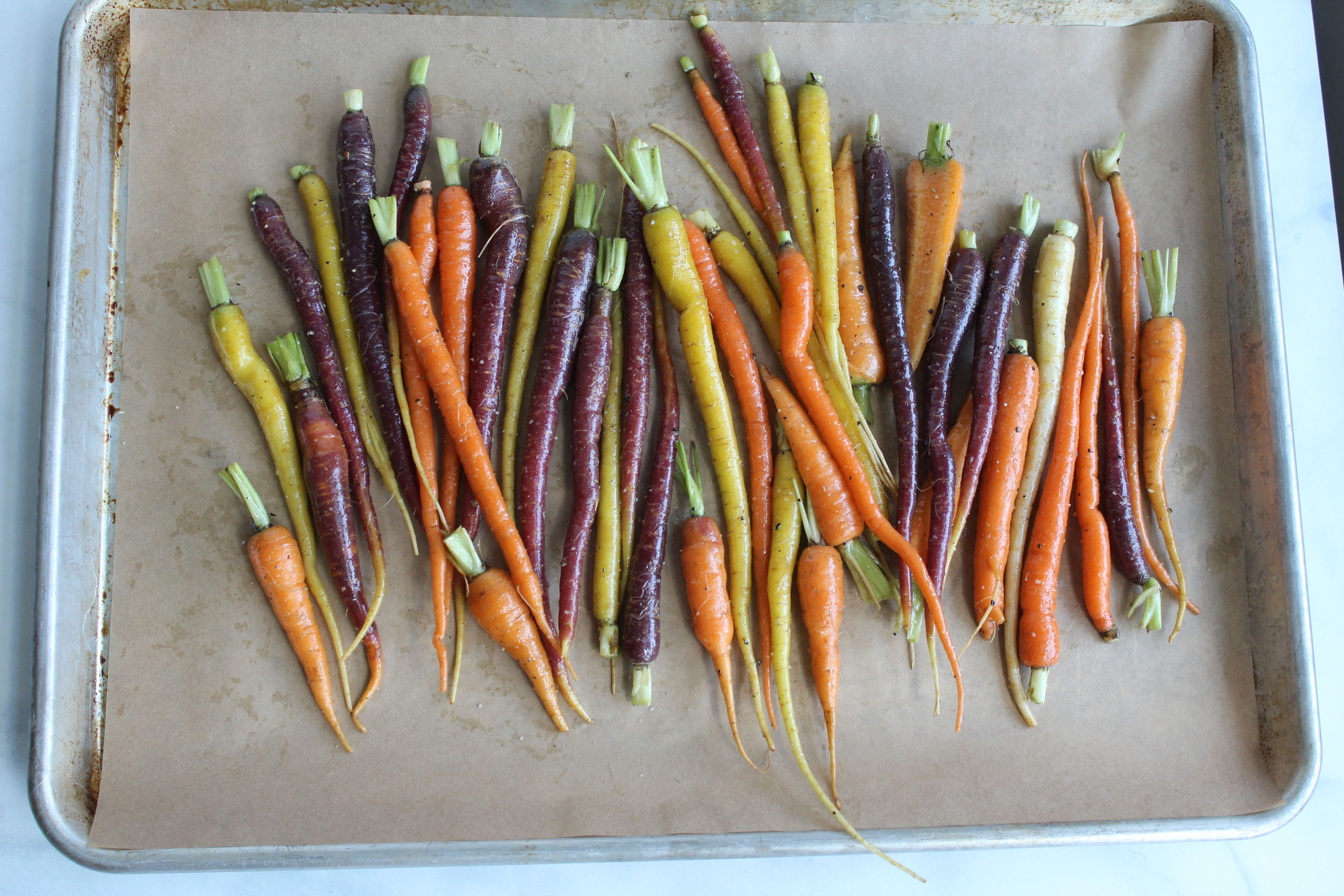 The Secret Ingredient
And here it is…the secret ingredient that makes these rainbow carrots uh-mazing…lemon juice and lemon zest! Right after you take the pan out of the oven use a Microplane to zest your lemon and sprinkle on top of the carrots. Secondly, cut your zest-ed lemon in half and just use one half of the lemon to squeeze the juice also on top of the carrots. Lastly, gently toss the mixture until all the carrots are coated with the lemon juice and zest. The lemon brings out a bright complex flavor and truly makes me sigh with contentment.
There you have it an effortless, side dish. These roasted rainbow carrots truly just melt in your mouth. Try them on top of a kale salad. (recipe coming soon)

Roasted Rainbow Carrots
These sweet, colorful, fresh from the farmer's market, carrots are so fun!
Ingredients
1 bunch heirloom rainbow carrots (approx 12)
1 tbsp extra virgin olive oil
1 lemon (with zest)
salt and pepper - to taste, start with ½ tsp
Instructions
Preheat oven to 425 degrees F
Wash and scrub the carrots and cut off the tops till about 1 inch remains. If the carrots are larger than an inch thick, cut in half.
Place carrots in a large mixing bowl. Add the olive oil, salt and pepper. Toss until well combined.
Add the mixture onto a parchment lined baking sheet. Roast for about 20-25 minutes or until the carrots are tender and starting to caramelize.
Remove the pan from the oven and let cool for about 5 mins then zest the lemon onto the pan with the carrot mixture. Cut the lemon in half then squeeze half the lemon juice also on top of the mixture. Toss to combine.
Serve and enjoy!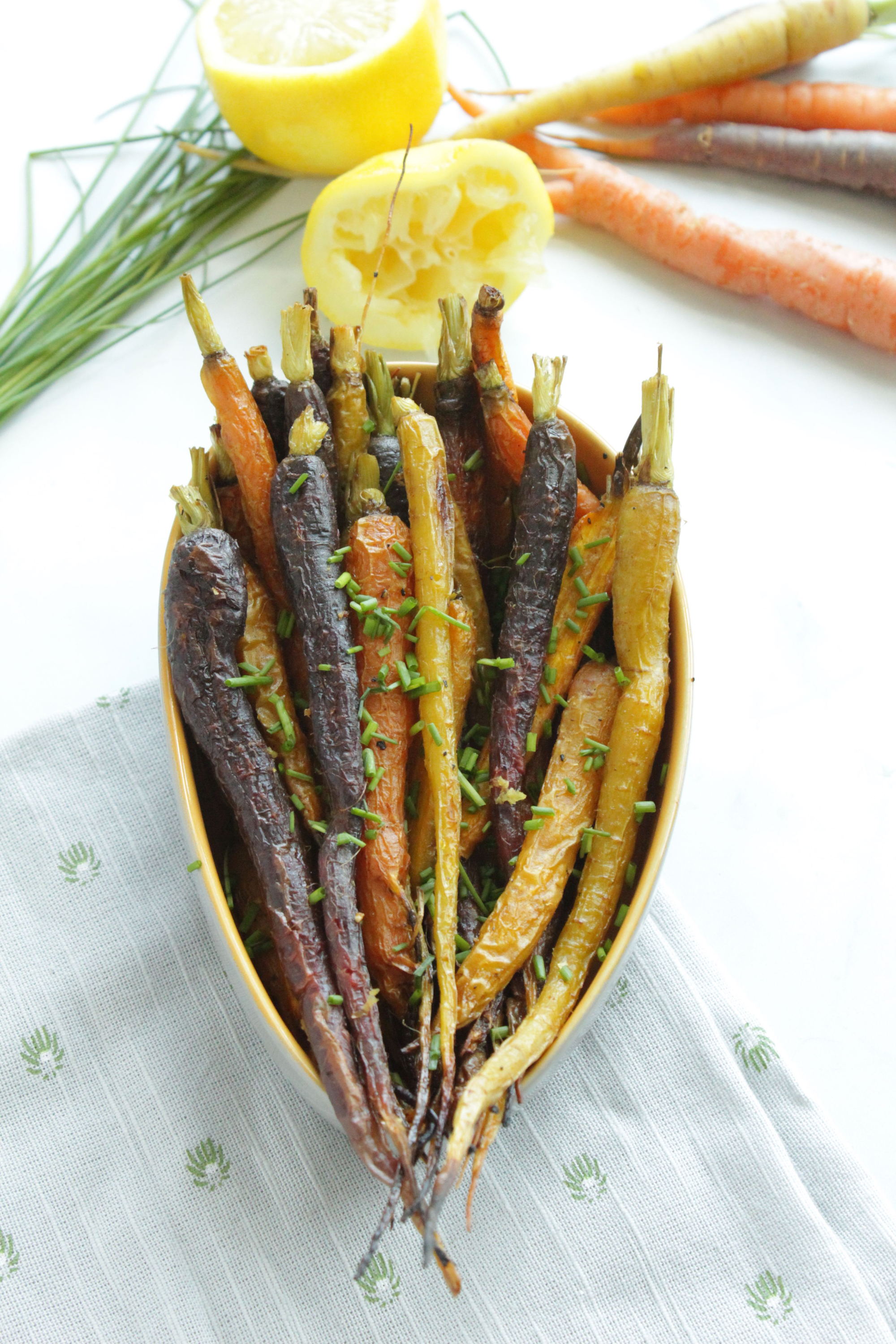 Enjoy!