Brazil Nut Steel Cut Oats
This steel cut oatmeal recipe is fresh, hearty and a good source of antioxidants and selenium.
Steel cut oats are one of the ingredients I have regularly stocked in my vegan pantry. I use Bob's Red Mill Gluten-Free Organic Steel Cut Oats for this recipe. A gluten-free labeled product doesn't have possible cross-contamination with other grains in processing which can be critical for some individuals, such as those with celiac disease or people who are avoiding glutens. Otherwise, you can buy a variety of other high quality steel cut oats in many grocery stores and online.
Similarly, I have brazil nuts readily accessible in my kitchen. The brazil nuts — whether you use brazil nut butter and/or brazil nut toppings — boost the nutrition density on this breakfast classic. I like to crush or grind my nuts on the finer side with a mortar and pestle.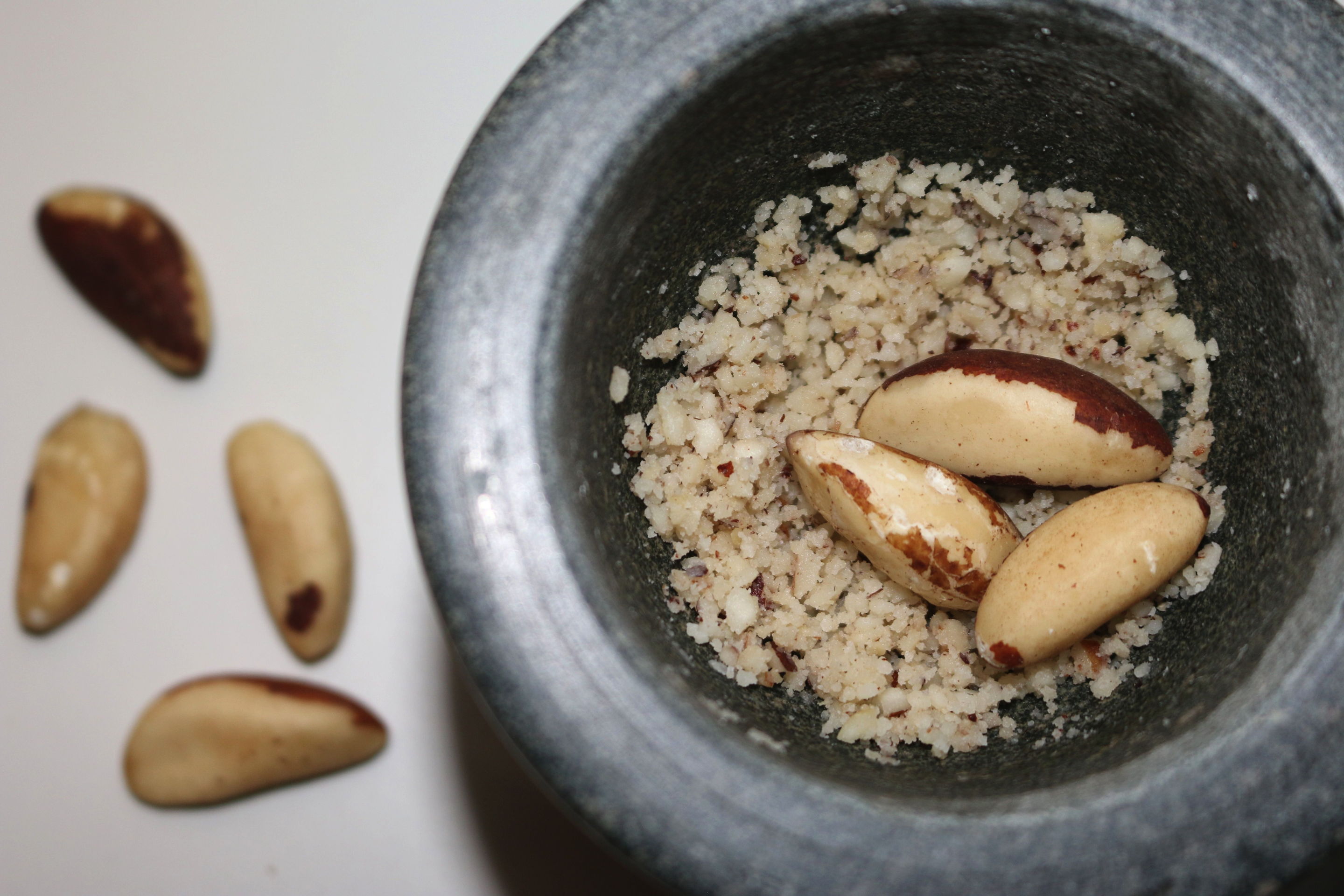 Since brazil nuts are a top source of selenium don't overeat them to avoid selenium toxicity.  For more information, you can refer to the "Recommended Dietary Allowances (RDAs) for Selenium" by the National Institutes of Health Office of Dietary Supplements.
Superfruit Steel Cut Oatmeal
For the superfruits in this recipe, I recommend using organic whenever possible, especially berries. You may want to check out the Environmental Working Group's Dirty Dozen EWG's 2018 Shopper's Guide to Pesticides in Produce™ as a reference.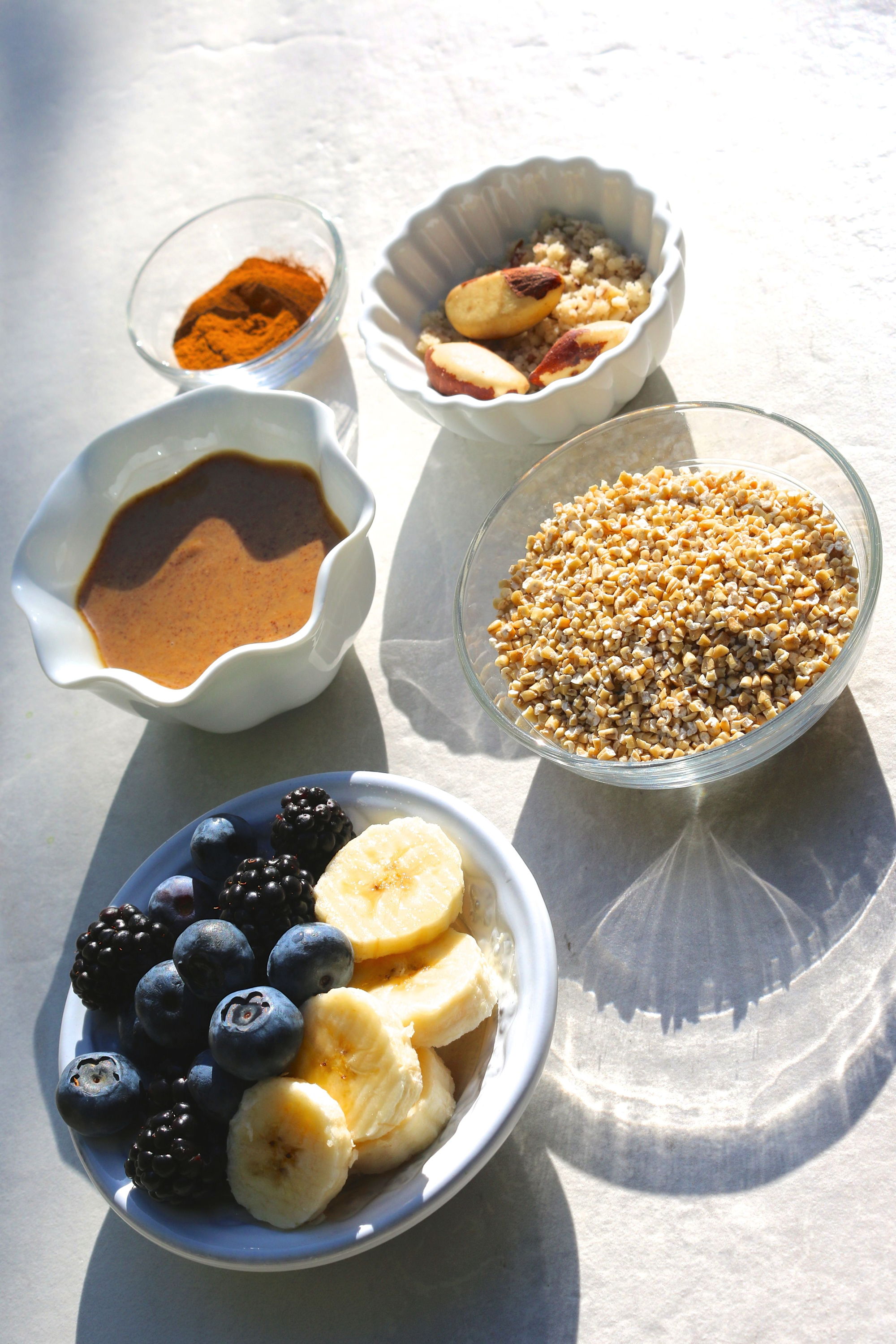 In general, eating a healthy balance of whole foods is a good rule to follow.
Selenium-Rich Vegan Steel Cut Oatmeal
When I want a meal to satisfy my inner-health nut needs and cravings, I prepare these oats.

Brazil Nut Steel Cut Oatmeal
This vegan steel cut oatmeal recipe includes brazil nuts and superfruits.
Ingredients
2 cups water
½ cup organic steel cut oatmeal
½ Tbsp creamy brazil nut butter
1 Tbsp creamy almond butter
2 - 3 crushed brazil nuts (I like it crushed or ground on the finer side). Reserve for topping.
1 tsp Vietnamese cinnamon (has a sweeter flavor profile than regular cinnamon). Reserve ½ tsp for topping.
½ medium banana sliced. A medium banana is about 6" long. The banana enhances the flavor of brazil nuts.
½ - ¾ cup organic berries (black berries, blue berries, raspberries and/or strawberries (add more or less depending on preference)
¼ tsp Celtic, Himalayan or other sea salt (optional)
1 tsp flax seeds (optional). Adding will thicken oatmeal so more liquid may be needed.
1 tsp chia seeds (optional). Adding will thicken oatmeal so more liquid may be needed.
Instructions
Add 2 cups water to pot and bring to boil
Add ½ cup steel cut oats and simmer/low heat in covered pot
Cook about 20 minutes (mixture should not be too thick)
Rinse and slice organic fruit while cooking oatmeal
While oatmeal is still hot in pot, add nut butters, seeds (optional), salt (optional) and ½ tsp Vietnamese cinnamon (reserve other ½ tsp for topping)
Stir mixture and pour oatmeal into bowl. Top with fruits, sprinkle crushed brazil nuts and remaining Vietnamese cinnamon and enjoy!
Notes
For thicker consistency, you can add more nut butter, flax seeds, chia seeds and/or simmer the mixture for a few more minutes. For thinner consistency, add nut milk or hot water until desired consistency reached.

No sweeteners have been added because the ripe fruits and Vietnamese cinnamon should add sweetness. However, if you prefer to add a little sweetener, drizzle some agave, coconut nectar or maple syrup on top.

Enjoy!