Crave-Worthy Plant-Based Caesar Salad Dressing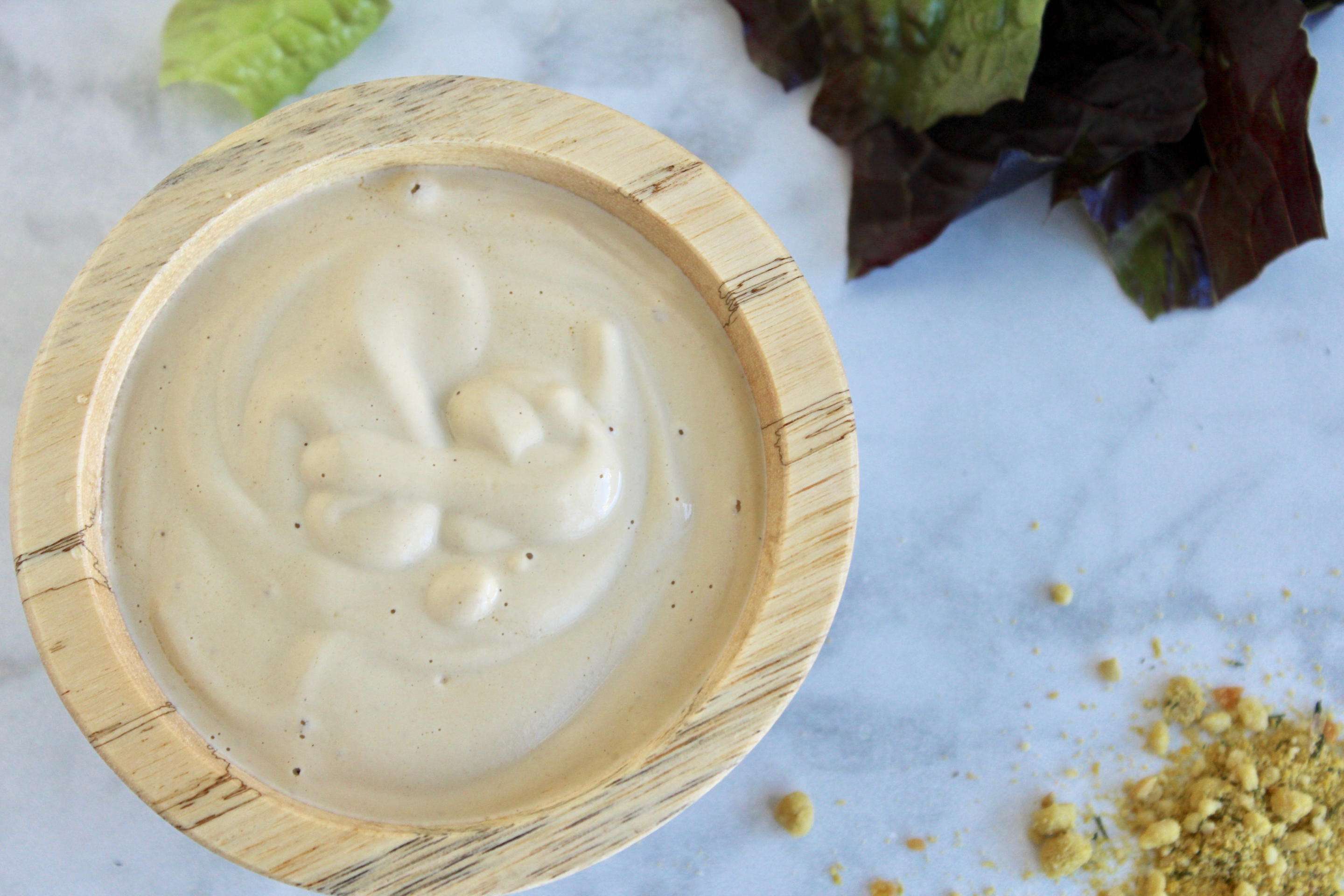 I love a rich creamy Caesar dressing and this one does not disappoint. Indeed that is a bold statement. I was inspired by a Caesar salad from Erewhon Market in Los Angeles. I played around with the ingredients for a while and finally…I believe I totally nailed it!
Ingredients You Can Easily Find
The cashews are responsible for the creaminess in this dressing.  The garlic and capers add to the flavor and the rest of the ingredients: almond milk, EVOO, Dijon, Worcestershire sauce, lemon juice and spices should already be in your pantry.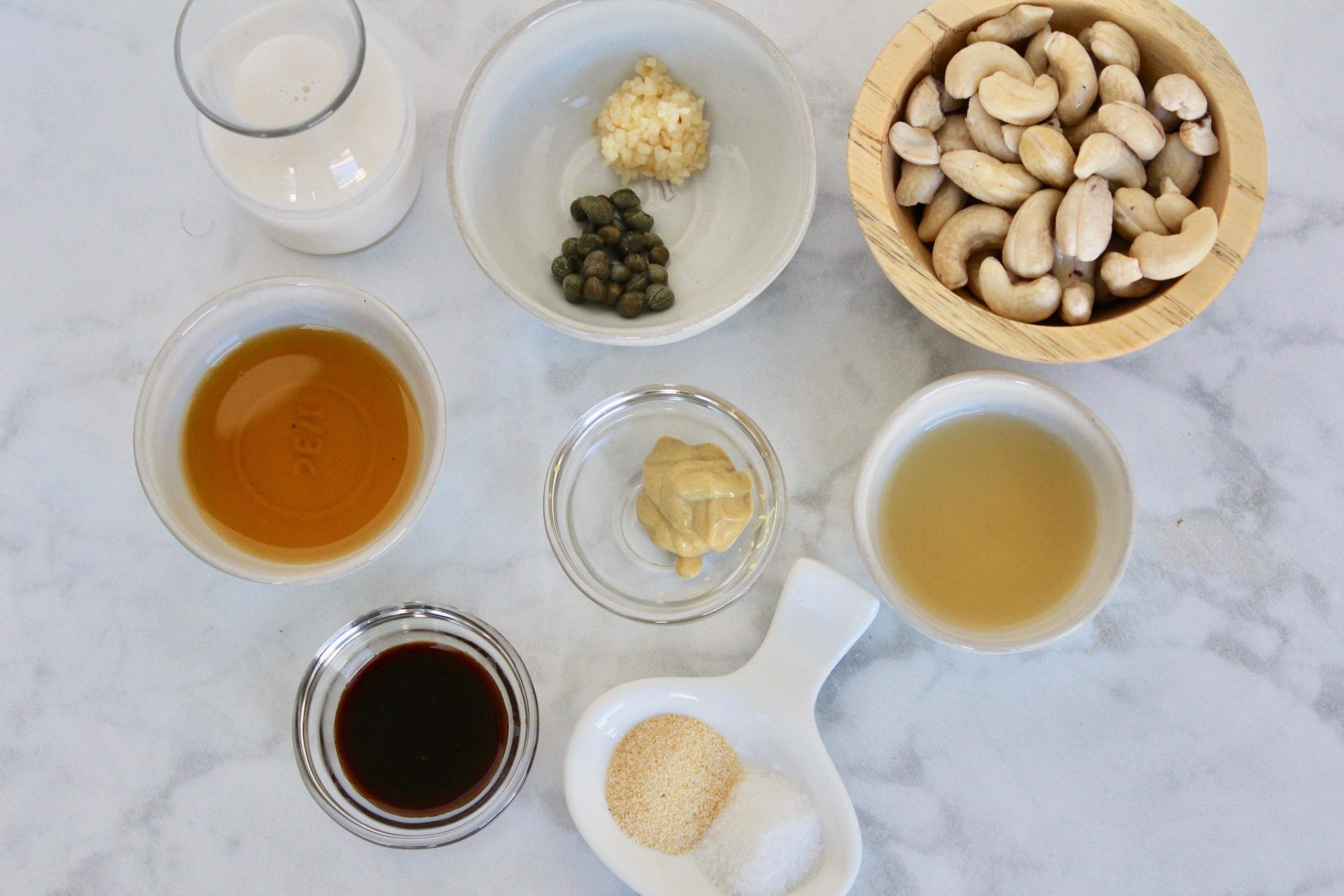 Soak Your Cashews
To make this easy I usually keep a stash of soaked cashews in my freezer. And every month or so, I soak a batch of raw cashews (1-2 lbs) in water overnight, then dry them in a colander, spread them out onto a baking sheet, then place the baking sheet in the freezer overnight. Once frozen you can take them off the sheet and place in a freezer bag for storage. When you need to use the cashews take out a portion for your recipe and let them defrost for 15 minutes. In addition, you can also speed up the process by heating up some water then place the nuts in the warm water for a minute or so, then drain.
Easy Preparation
Add all the Caesar salad dressing ingredients into a high speed blender (Vitamix) and blend on high for a couple minutes. So, if you have another kind of blender you will need to blend for a longer period of time until smooth. And that's it, so easy. Place the dressing in the fridge, it will thicken up in a few hours.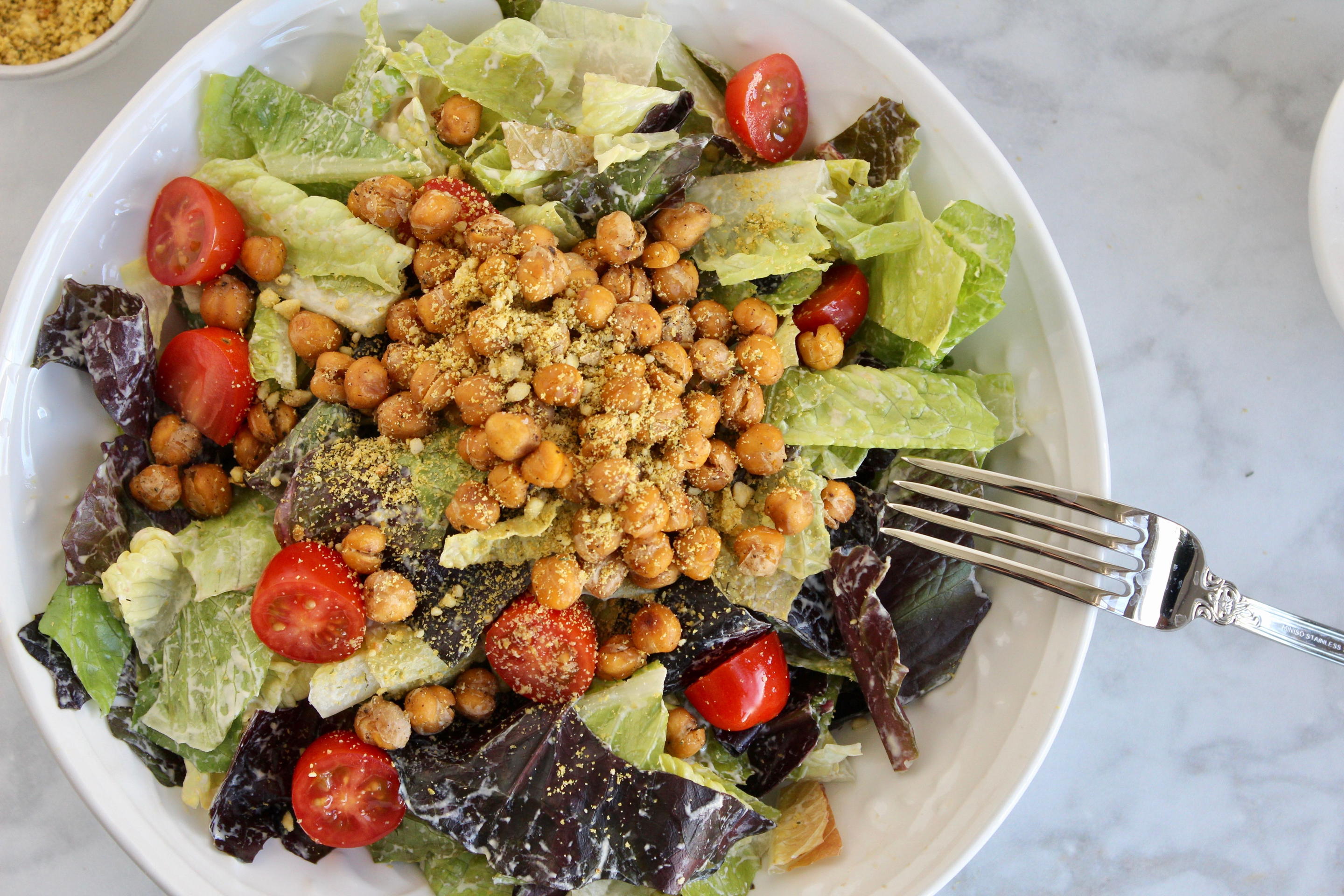 Make A Caesar Salad
To make your Caesar Salad, wash and dry some romaine lettuce add some grape tomatoes, then add the dressing and toss until combined. Garnish with chickpea croutons and vegan Parmesan (see recipe notes). There you have it, make this today!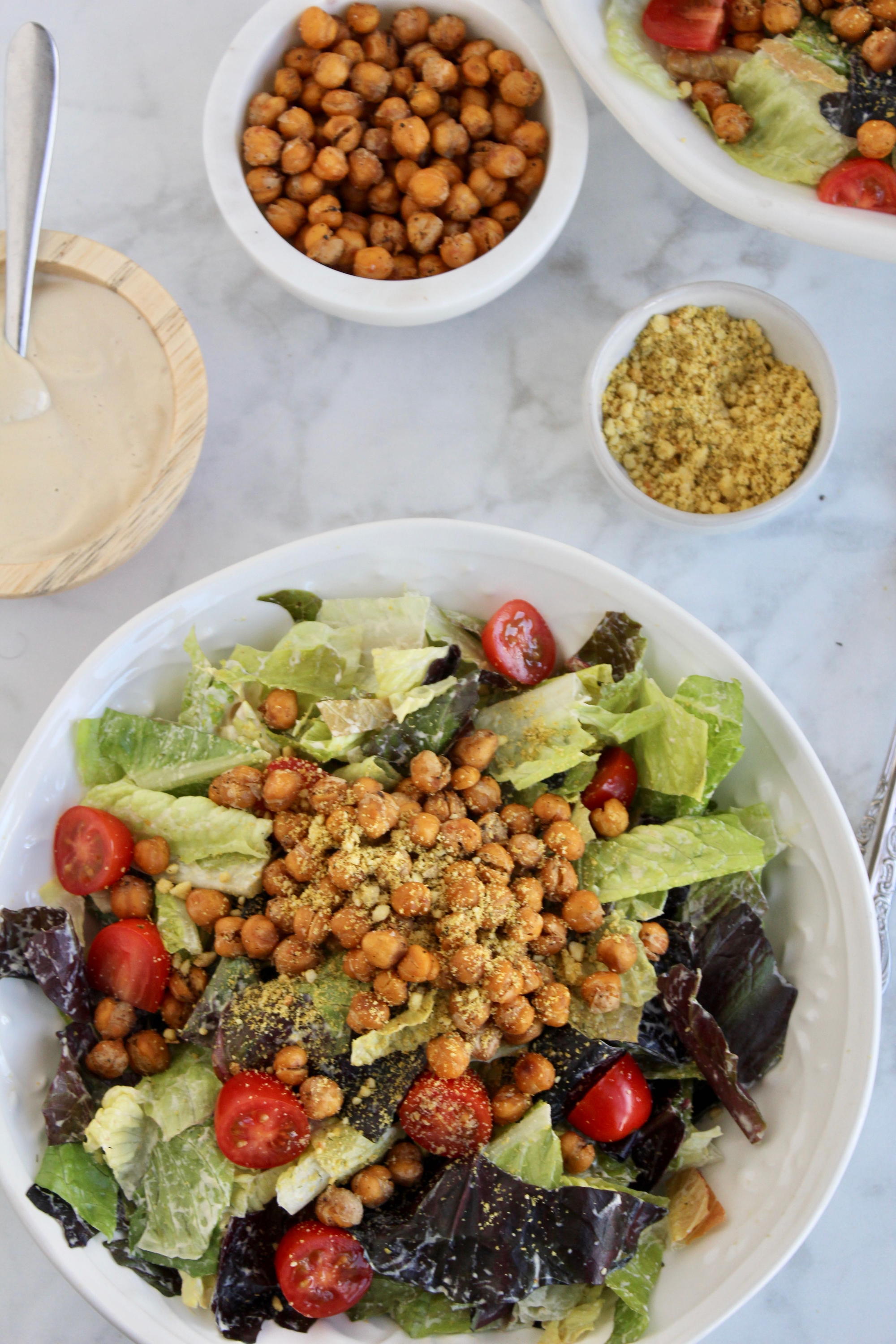 Vegan Caesar Dressing
Creamy vegan Caesar dressing
Ingredients
¾ cup soaked cashews
¼ cup almond milk
1.5 tbsp extra virgin olive oil
1 tbsp lemon juice
2 tsp vegan Worcestershire sauce
1 tsp garlic, minced
1 tsp capers
1 tsp Dijon mustard
½ tsp garlic powder
½ tsp sea salt
Instructions
Add all the ingredients into a container of a high-speed blender.
Blend on high for about 2 mins.
Pour over salad greens.
Store in a mason jar. This will keep in the fridge for 1 week to 10 days.
Notes
Add the following to a food processor for a plant-based parmesan cheese: ¾ cup raw cashews, 3 Tbsp Nutritional yeast, ¾ tsp sea salt, ½ tsp garlic powder, ¼ tsp onion powder.

For soaked cashews: place raw cashews in a bowl or mason jar and cover the nuts completely with cool water to at least an inch under water. Soak for at least 8 hours or overnight.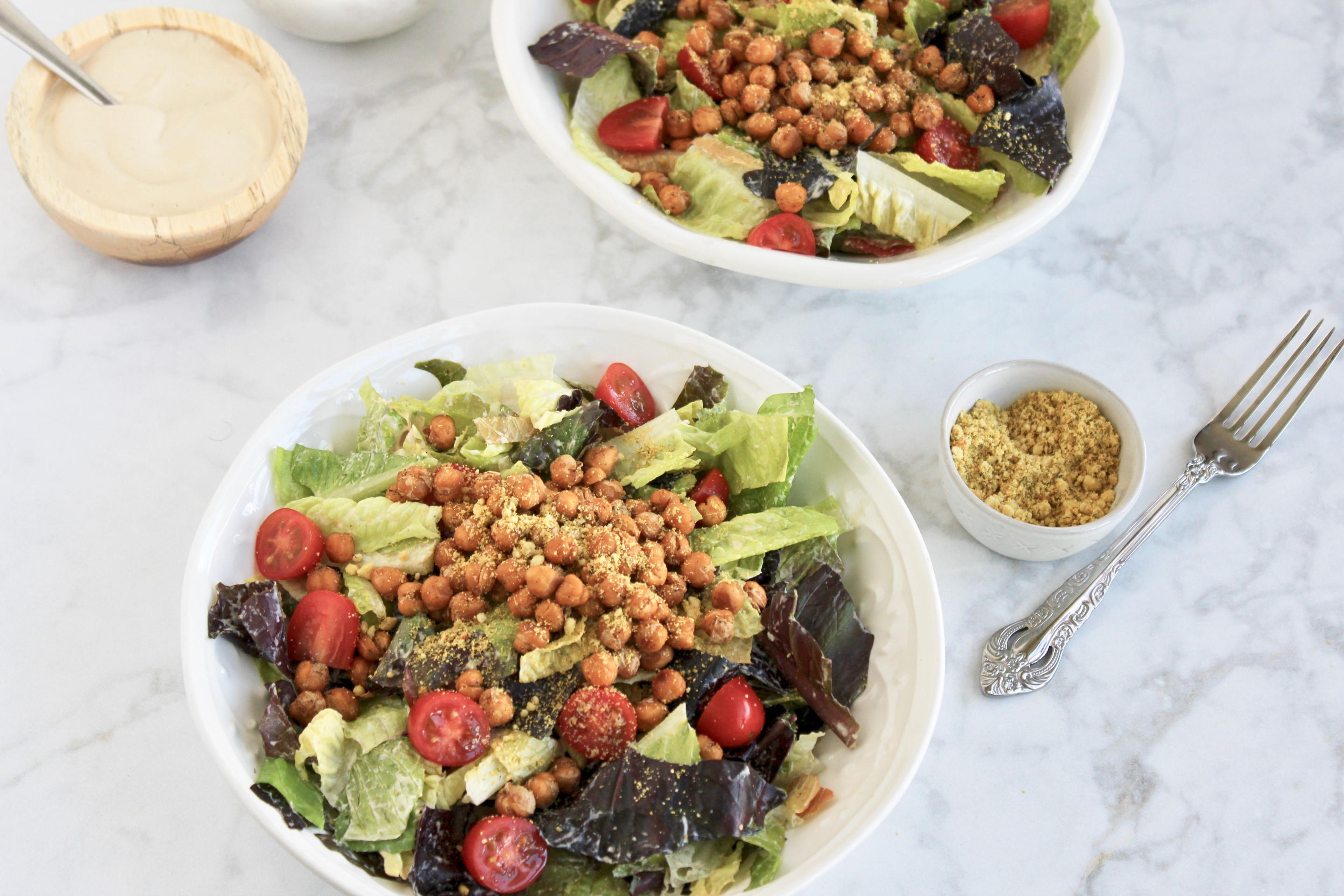 Enjoy!