Whole Foods Soup Recipe with Sunchokes and Leeks
What looks like over-sized ginger, and has the consistency of a potato? Sunchokes! Also known as Jerusalem Artichokes. This tuber has a nutty savory, artichokey (is that a word?), potato taste. It is incredible when made into a whole foods soup.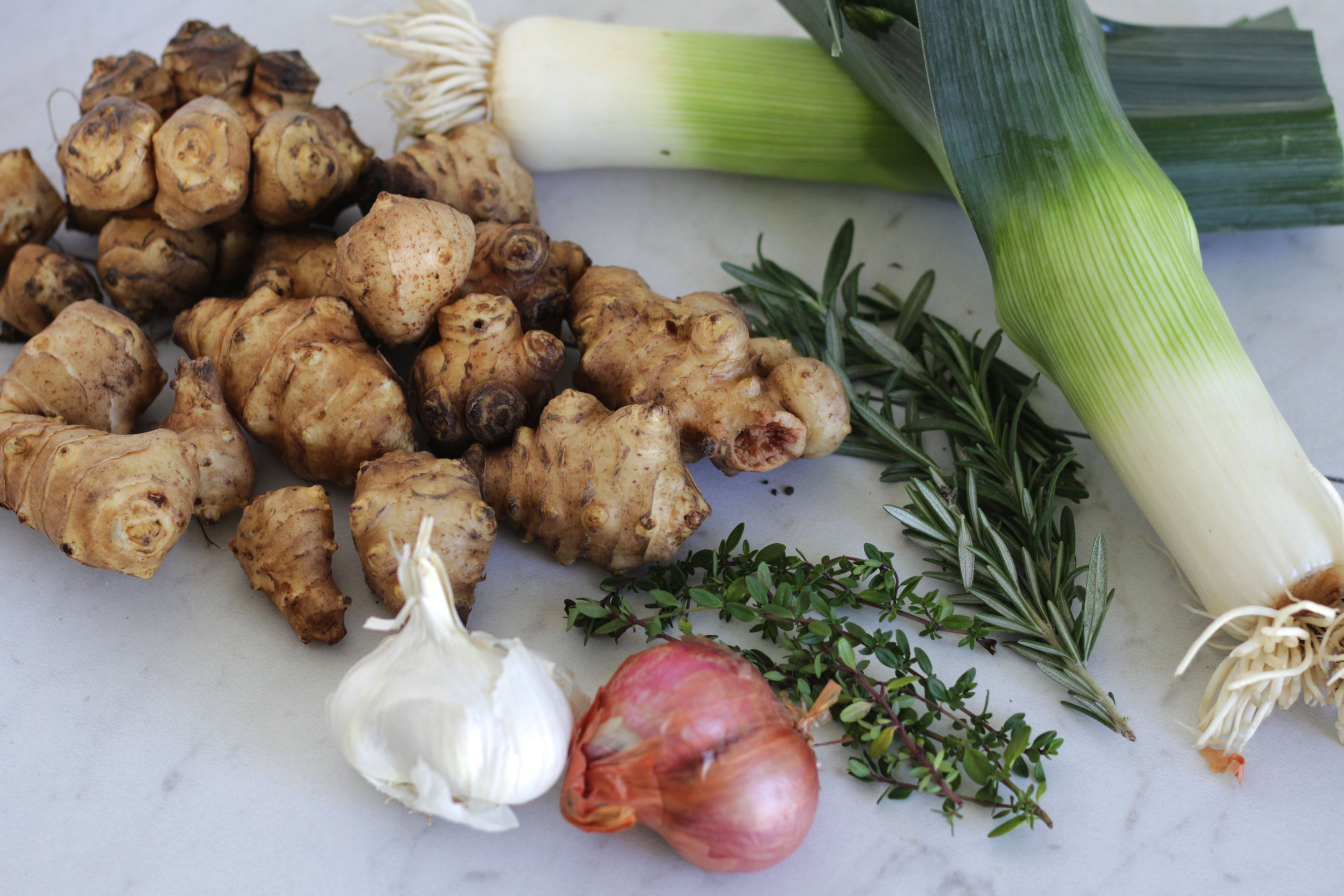 Sunchoke and Herb Plant-Based Vegan Soup Recipe
This soup is so comforting and creamy and good for you. The fresh herbs in this soup really take this comforting soup up a notch in flavor. Rosemary not only tastes good but is also a great source of iron calcium and vitamin B-6. Thyme has many great benefits including anti-inflammatory and anti-bacterial properties. Thyme is also good for muscle cramps and helps boost the immune system.

Roasted Sunchoke and Leek Soup with Rosemary and Thyme
Make this plant-based comfort food today. You will be amazed by rich and creamy taste.
Ingredients
1 lb Sunchokes peeled and cubed
2 Leeks cut into rings
2 Shallots chopped
3 Garlic cloves peeled and chopped
1 Tbsp Rosemary
1 Tbsp Thyme
1.5 Tbsp Extra Virgin Olive Oil (EVOO)
¾ cups soaked raw cashews*
1-2 cups Vegetable broth
1.2 Tbsp Nutritional yeast
1 Tbsp Blended lemon** or lemon juice
Salt & pepper to taste
Instructions
Heat oven to 375 degrees. Peel, cube, cut, slice vegetables. For the Leeks cut off dark green part and slice off bottom. Add sunchokes, shallots, garlic, rosemary and thyme to a large bowl add 1 tbsp EVOO. Spread on a parchment lined baking sheet. Roast in oven for a total of 40 minutes.
In the meantime add the leeks to the empty bowl you just used for the other veggies add the additional EVOO and mix until combined then spread onto another parchment lined baking sheet.
At 20 minutes into roasting the sunchokes & shallot mixture add the leeks to the oven and roast for 20 more minutes. We only need to roast the leeks for 20 minutes they are a very delicate vegetable. They will burn if left in the oven too long, so don't be tempted to include with the other veggies.
Once everything is roasted take out of the oven and cool slightly.
Add all the veggies to a high powered blender as well as the rest of the ingredients: cashews, vegetable broth, nutritional yeast, lemon, salt and pepper.
Blend until pureed into a thick soup. Taste and add additional salt and pepper as desired.
Notes
Note:
*Soaked Cashews:
Pour 1 cup of boiled water onto the raw cashews, let it soak for 1-2 hours or overnight. Drain water.
** Blended lemon:
This method essentially uses the whole fruit to get more nutritional benefit. Here you get all the fiber and nutrition from the lemon. Peel and blend a whole lemon then freeze into teaspoon or tablespoon portions. I like to do this in batches, get 4-6 lemons peel them then blend in a Vitamix then pour them into portions into a silicone ice cube tray. Put them into a freezer bag and use them whenever you need lemon juice.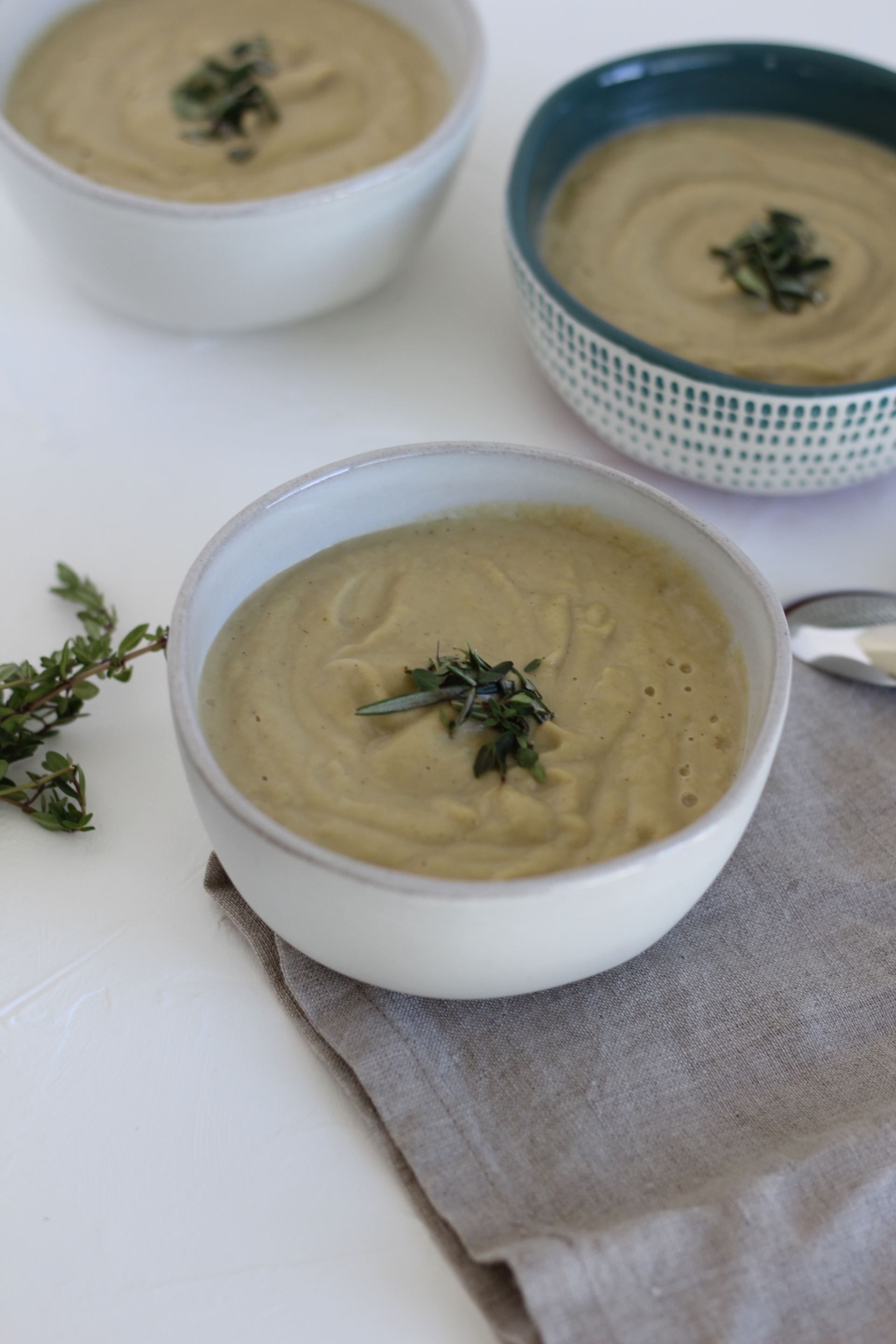 Enjoy!