Healthy Sweet Potato Fries
I am crazy for sweet potato fries. However, sweet potato fries are, well fried! and just not healthy. As a result of my search for an alternative way to get my fry fix, I found the Philips Airfryer. Wow, I am impressed!  The Airfryer does an awesome job at making sweet potato fries that look and taste like they are deep fried! I honestly love them.  Most importantly all you need  for this healthy snack are sweet potatoes, a tablespoon of olive oil and some salt and pepper.
I know, you are probably saying," I don't have an Air Fryer". I know, I know it is an investment.  Have no fear you can make these in the oven too, no problem! These sweet potato fries are also great with some oil-free garlic aioli.  What are you waiting for? Make them today.
Sweet Potatoes are One of the Healthiest Foods in the World
This sweet, delicious orange fleshed tuber is full of beta-carotene. In fact, a one cup serving of sweet potatoes provides an impressive 377% of your daily allowance of vitamin A.  In addition, sweet potatoes provide vitamin B-6, vitamin C, calcium and magnesium.

Sweet Potato Fries with an AirFryer
These healthy sweet potato fries taste so indulgent, it's incredible. You don't need an airfryer you can also make these in the oven. Only 4 ingredients are required!
Recipe Type:
Appetizer + Sides + Snack
Ingredients
2 medium sweet potatoes
1 tbsp olive oil
pinch of salt
pinch of freshly ground pepper
Instructions
If baking turn oven on to 375 degrees F. Alternatively, if airfrying turn Airfyer on to 360 or whatever is indicated in the manufacturer's instructions.
Wash and scrub the medium sweet potatoes, then slice into ¼ inch thick slices.
Add sweet potatoes, olive oil, salt and pepper to a bowl, gently toss.
Place the sweet potatoes into the airfryer (follow the manufacturer's directions) or if baking in the oven place them onto a baking sheet lined with parchment paper.
Bake in Airfyer for 10 mins or 40 minutes in the oven.
Take out of the oven and cool for a few mins then serve with garlic aioli - recipe.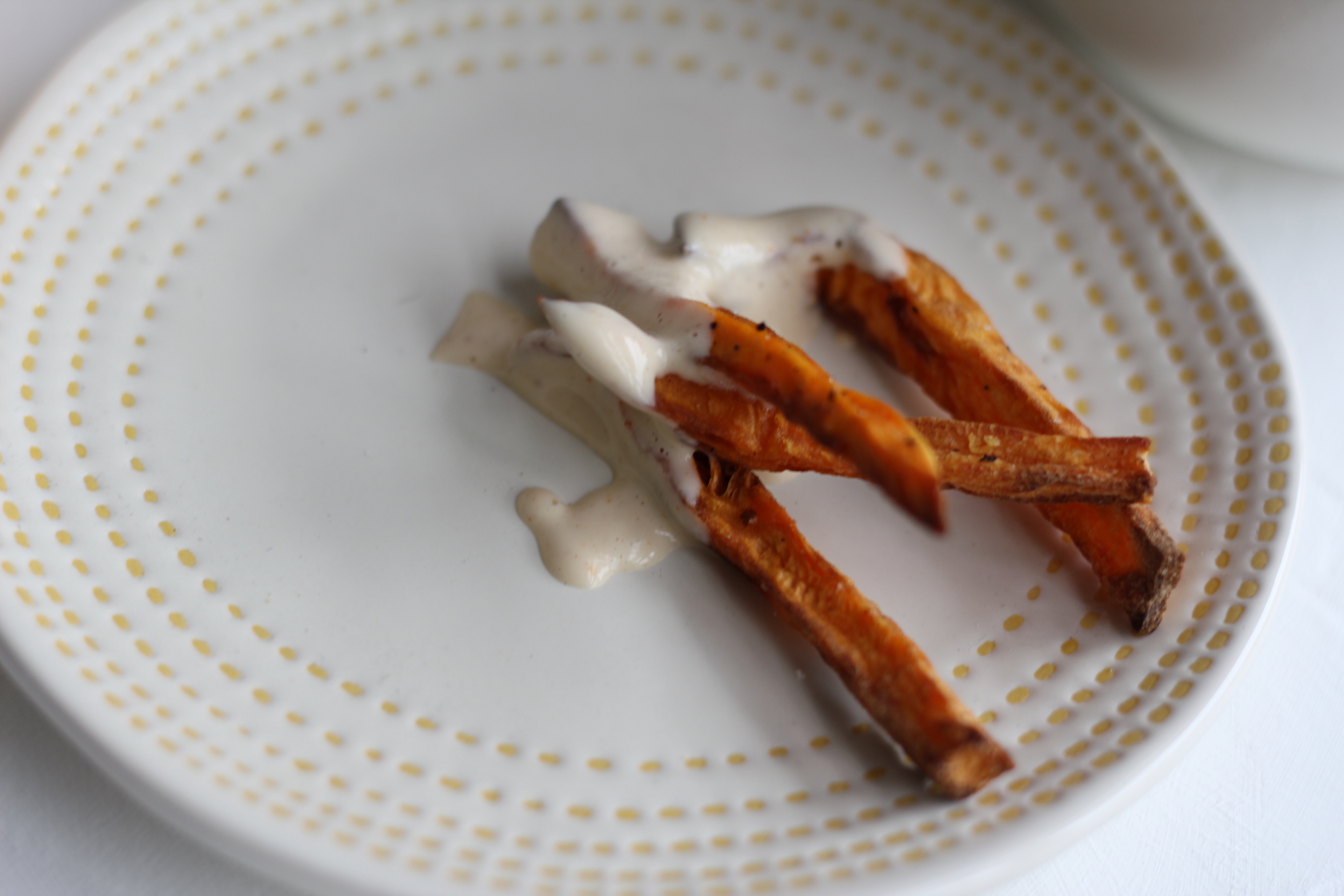 Enjoy!