Get Your Green Veggies with this Spinach Salad
Spinach is my go to leafy green vegetable. Walking around the produce aisle at the grocery store or through the farmer's market makes me happy.  There is something so therapeutic when you see all the colors of nature… green, yellow, red, orange… This salad delivers all the goodness.  It's loaded with nutrition and flavor. Spinach has high amounts of vitamins and minerals and is high in calcium and iron. This green salad is a cinch to make, add some spicy pecans to send it over the top!

Strawberries are Loaded with Vitamins and Minerals
The best part of this salad is the strawberry basil dressing. When first going plant-based vegan, the most difficult part of finding and preparing foods are the dressings and sauces. Thankfully most of the sauces and dressings can be made vegan. Strawberries are ubiquitous around the world.  They can be found in everything from smoothies and drinks to salads and desserts. One cup of strawberries contains 141% of the daily recommended amount of vitamin C, 5% vitamin B-6, 4% Magnesium and 2% calcium and a host of other minerals.
Strawberries and Phytonutrients
Besides vitamins and minerals, pant foods contain disease preventing nutrients called phytonutients. Unlike vitamins and minerals, phytonutrients are not essential to keeping you alive. However, they are helpful in reducing inflammation, preventing disease and lowering the risk of cancer. The best way to get your phytonurients is through eating the whole food rather than pills or processed foods. Strawberries are delicious whole and unprocessed.
Strawberries are a Great Source of Antioxidants
Additionally, phytonutrients in strawberries contain vitamin C. Did you know there is more vitamin C in strawberries than oranges?  "A 3.5-ounce serving of fresh strawberries, or about five large berries, provides 32 calories and almost 59 milligrams of vitamin C, or 98 percent of the daily value. As such, ounce for ounce, strawberries are slightly higher in vitamin C — and lower in calories — than oranges."
Oxidation to Your Cells Can Lead to Illness and Aging
The antioxidants in strawberries help fight off cell damage caused by free radicals. Free radicals can cause oxidation to your cells which can lead to illness and aging. To prevent these free radicals from forming in your body include a variety of berries in your diet including strawberries.
 Did you know there is more vitamin C in strawberries than oranges?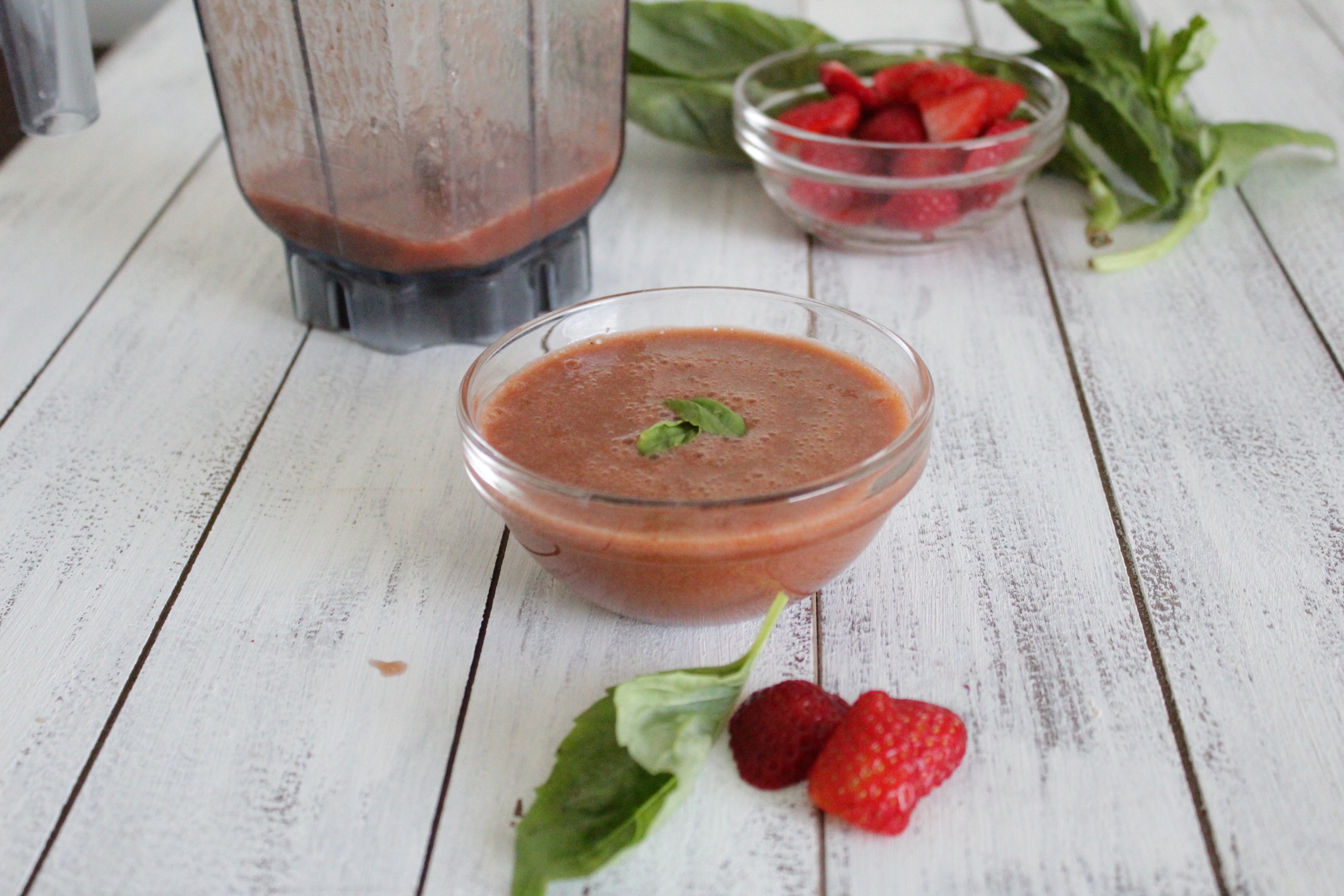 Use a high-speed blender like a Vitamix or Blendtec to make this dressing smooth.
Do you need one to make this dressing? No. But it will take a bit more time in the blender to get it nice and relatively smooth.  You may be able to get it pretty close to, but not as smooth as using a high-speed blender.

Spinach Salad with Strawberry Basil Dressing
When you are short on time and want your green veggies, whip up this salad and you will be eating in no time.
Cuisine:
California Cuisine
Ingredients
Dressing
1 cup strawberries
¼ cup basil, loosely packed
¼ cup red wine vinegar or balsamic vinegar
¼ water
2 tbsp date paste
¼ tsp freshly ground pepper
Salad
2 cups spinach
¼ cup sliced red onion
½ cup sliced strawberries
Optional: fresh edible flowers, nuts such as spicy pecans - recipe.
Instructions
Place spinach in a large salad bowl, slice the strawberries and onions and set aside.
Place all of the dressing ingredients into a high-speed blender, such as a Vitamix. Blend for a few mins on high until dressing is creamy.
Add the red onion to the bowl of spinach. Splash a few tablespoons of the dressing to the bowl and toss till lightly coated, add more dressing as desired.
Divide the salad between two dishes. Top with strawberries, nuts and edible flowers, if using. Enjoy!
Enjoy!