Vegan Kelp Noodle Pesto Recipe
Kelp noodles are a revelation. They're made of seaweed and are rich in vitamins and minerals, gluten-free, low carb and don't taste fishy as you might initially suspect. In general, these noodles are neutral-flavored, however, you may detect a slight bitter or salty taste depending on your palate and the type of kelp noodles you use. With these clear noodles there isn't the common sticky, soggy noodle issue to contend with and if anything, they can dry out if not stored properly. The raw noodles are on the crunchy side, however, cooking and/or soaking them should make them softer and more pliable.
If you haven't tried kelp noodles before, I think you'll be pleasantly surprised and will add them to your go-to ingredient pantry list. In fact, anytime you usually use pasta or rice noodles, consider substituting with kelp noodles for a new, nutritious twist. On their own, they don't have much flavor and are quite bland, so be generous with your seasonings and sauces. They can handle bold flavors. I've tried kelp noodles with pesto, thai and curry sauces and they were all delicious. For this recipe, I used Sea Tangle Kelp Noodles which are made in San Diego, CA.
Spinach, Basil and Sun-Dried Tomato Pesto
This vegan pesto sauce has a mix of fresh greens — spinach and basil. Other healthy ingredients include pine nuts, lemon, and garlic, topped with shiitake mushrooms and sun-dried tomatoes.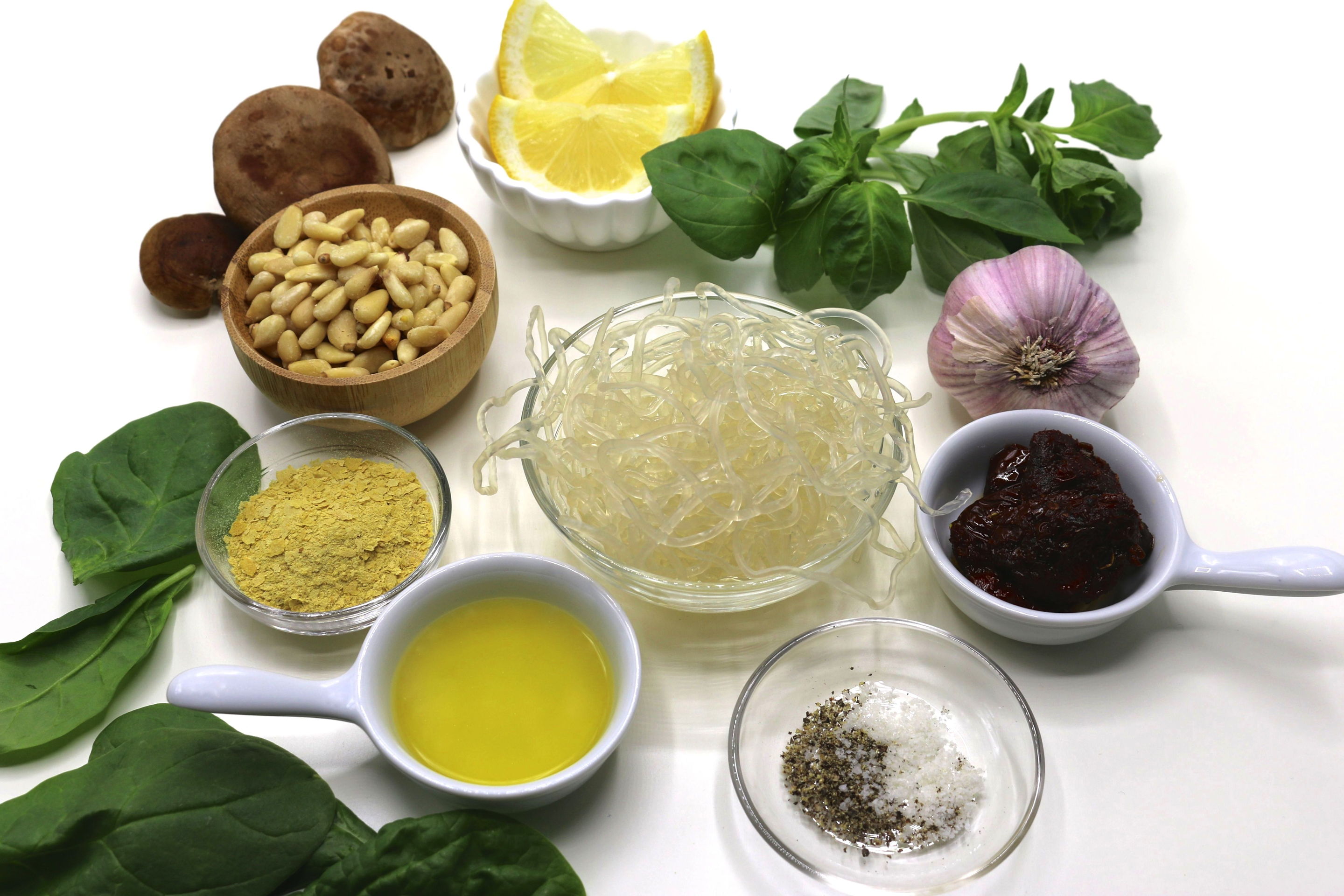 Healthy Pesto Kelp Noodles
This is a nutritious and tasty combination of kelp noodles with pesto. If you're in the mood for a healthy, light and fresh dish with a unique spin, try this easy vegan recipe.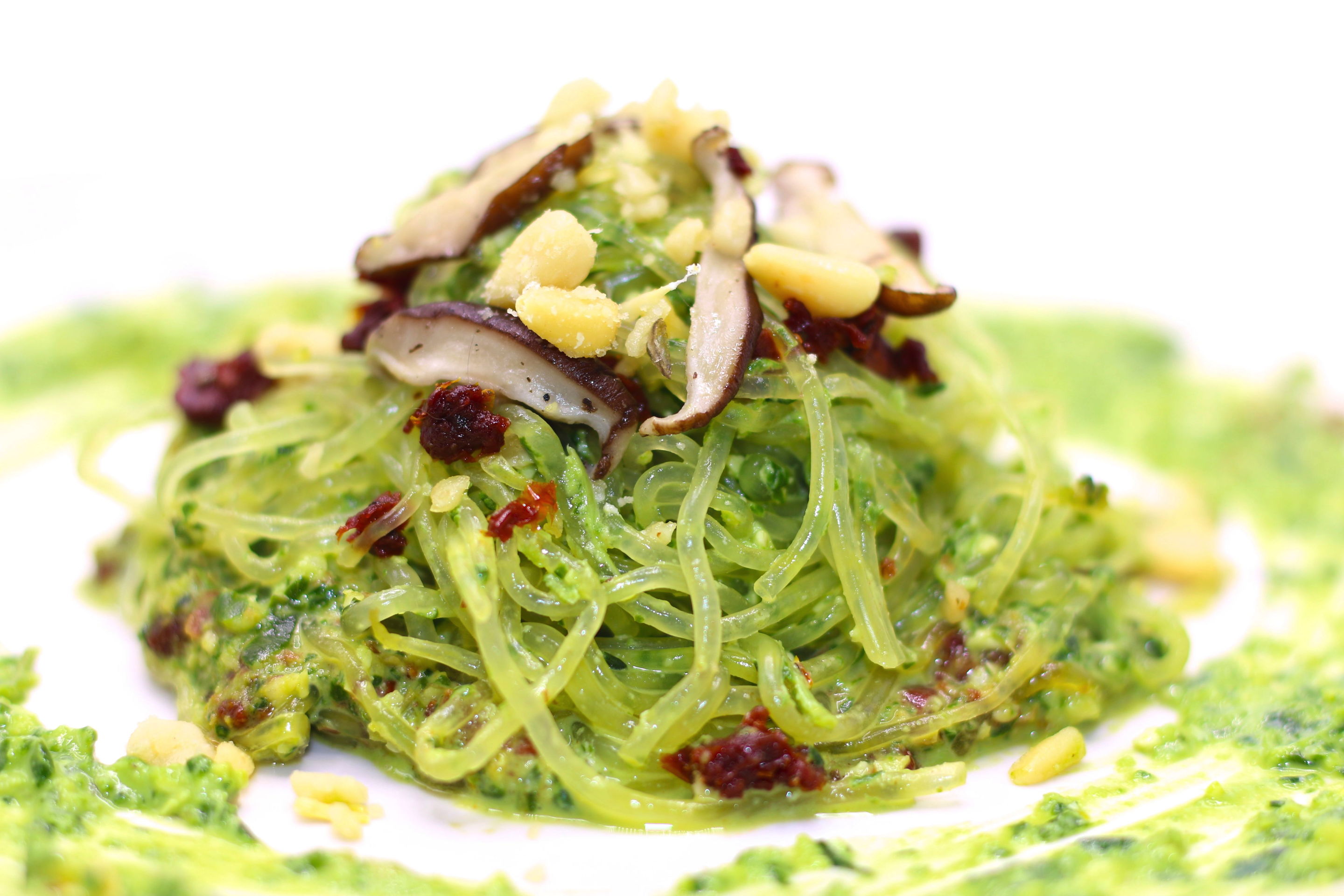 Kelp Noodles with Spinach Basil Pesto
Vegan kelp noodles with spinach basil pesto, shiitake mushrooms and sundried tomatoes.
Cuisine:
Japanese, Italian, Vegan
Ingredients
Pesto
1 cup spinach leaves
1 cup basil leaves
½ clove garlic peeled
¼ cup pine nuts (unsalted)
2 - 3 Tbsp lemon juice
½ - 1 tsp lemon zest
2 - 3 Tbsp nutritional yeast
3 Tbsp extra virgin olive oil (EVOO)
¼ - ½ tsp Celtic or other sea salt (optional)
Dash ground pepper
Noodles
8 - 10 oz Sea Tangle Kelp Noodles or other brand
½ - 1 tsp extra-virgin olive oil (EVOO) for heating (optional)
Toppings
1-2 Tbsp pine nuts (whole or chopped)
4 pieces sun-dried tomatoes (about 2 Tbsp chopped)
2 - 4 shiitake mushrooms sliced, seasoned and sautéed
Instructions
Pesto
Add to small food processor the spinach, basil, garlic, pine nuts, lemon juice, lemon zest, nutritional yeast, salt, pepper and EVOO.
Grind all ingredients in food processor until you've reached desired consistency for your pesto sauce. The "mode" may vary depending on your food processor.
Noodles
Rinse, separate and cut your noodles if you prefer a shorter length.
Prepare your noodles after you've made your pesto sauce if you prefer them warm. In a sauce pan, add about ½ - 1 tsp EVOO and cook your noodles gently on medium-low heat in covered sauce pan for about 10 minutes (check and toss your noodles intermittently; spray or sprinkle water as needed). You can also skip the EVOO and just spray or sprinkle water on noodles as you heat them in pan or just soak in warm water. Heating the noodles will make them softer with a light crisp.
Toppings
Chop your pine nuts and/or use whole nuts.
Chop sun-dried tomatoes with a knife or in a small food processor.
Slice, lightly season and sauté mushrooms in small pan for about 5 mins.
Assembly
Add pesto to noodles and gently mix. I recommend using tongs to mix pesto into the noodles.
Serve in plates or bowls, garnish with toppings and enjoy your dish!
Notes
If you have any leftovers, refrigerate and it should be good for about 3 days. Serve it cold or heated. The noodles should get progressively softer and thinner after the 1st day, resembling rice noodles.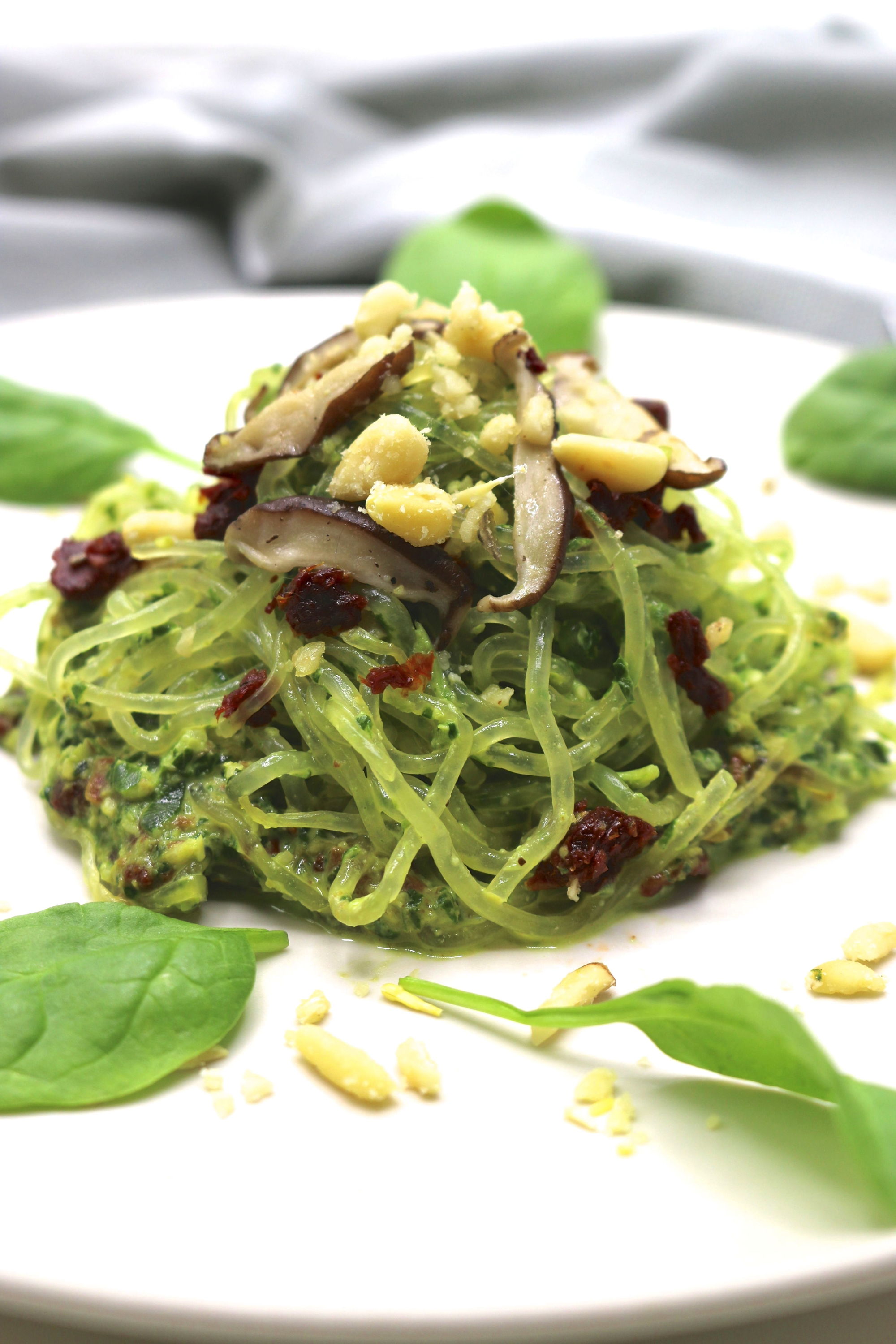 Enjoy!