Simple Spinach Basil Vegan Pesto Sauce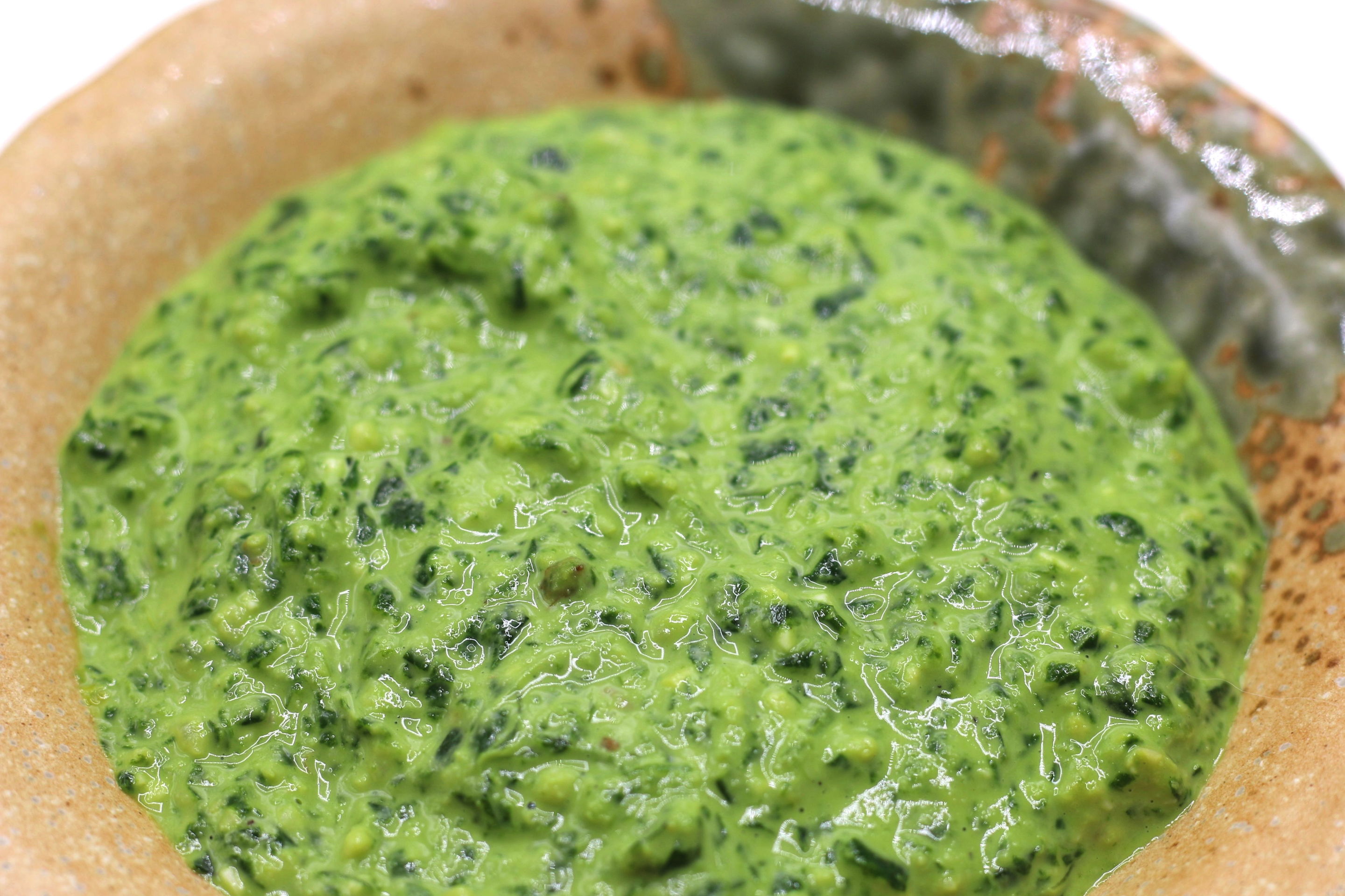 1 cup spinach leaves (de-stemmed)
1 cup basil leaves (de-stemmed)
½ clove garlic peeled
¼ cup pine nuts (unsalted)
2 - 3 Tbsp lemon juice
½ - 1 tsp lemon zest
2 - 3 Tbsp nutritional yeast
3 Tbsp extra virgin olive oil (EVOO)
¼ - ½ tsp Celtic or other sea salt (optional)
Dash ground pepper
1-2 Tbsp pine nuts (whole or chopped)
4 pieces sun-dried tomatoes (about 2 Tbsp chopped)
2 - 4 shiitake mushrooms sliced, seasoned and sautéed
Blanch greens (optional). This added step of blanching could help prevent oxidation and keep your pesto sauce looking greener, fresher for longer period of time.
In a small food processor or blender, add spinach, basil, garlic, pine nuts, lemon juice, lemon zest, nutritional yeast, salt, pepper and EVOO.
Grind all ingredients in food processor/blender until you've reached desired consistency for your pesto sauce. The "mode" may vary depending on your food processor/blender.
Add toppings (optional). Top pesto sauce with whole or chopped pine nuts, sliced or chopped sun-dried tomatoes, and/or sliced and sautéed shiitake mushrooms.
Add pesto sauce to this delicious vegan kelp noodle recipe, pasta or use as a dip and enjoy!
Refrigerate any leftover pesto sauce. It should stay fresh for about 2-3 days in an airtight lidded container. Adding a thin layer of EVOO on top of the pesto sauce could also help prevent oxidation and keep your pesto greener and fresher for a longer period of time.
Recipe by
True Forage
at https://trueforage.com/spinach-basil-vegan-pesto-sauce/