Delectable Almond Date Bombs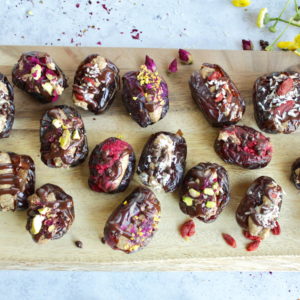 Recipe Type:
Dessert, Snack
16 dates (Medjool)
⅓ cup Almond Butter
Optional toppings: cinnamon, coconut flakes, almonds, goji berries, dried rose petals, dried powdered fruit, chocolate etc.
Make a small slit in the date length wise, just big enough to remove the pit. You don't want to cut them all the way through.
Take about a teaspoonful of almond butter and "stuff" the date.
Top with your favorite toppings. Let your imagination run wild.
Pop them into your mouth and enjoy.
Recipe by
True Forage
at https://trueforage.com/delectable-almond-date-bombs/