Sweet Peach, Tomato and Avocado Salad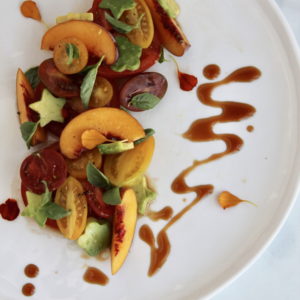 2 medium beefsteak tomatoes
3 medium peaches
1 cup grape tomaotes
1 medium avocado
¼ cup basil
2 Tbsp Extra Virgin Olive Oil (EVOO)
1 Tbsp balsamic vinegar
1 Tbsp lemon juice
salt and pepper
Add all the dressing ingredients into a bowl and whisk until well combined.
Slice the beefsteak tomatoes into ½ thick slices, cut the grape tomatoes in half, pit and slice the peaches, cut the avocado into slices and slice the basil leaves into ribbons.
Arrange the tomatoes, peaches and avocado on a plate and sprinkle the basil on top. Pour the dressing on top and gently combine.
To make it extra special: drizzle balsamic reduction* on top.
* to make a balsamic reduction, on medium heat add a sauce pan with ½ cup of balsamic vinegar combined with 2 tablespoons date syrup or maple syrup. Let the mixture simmer until it is reduced to half. Mix often. You will know it is ready when the the mixture starts to thicken. Turn heat off and let cool. It will get thicker as it cools. You can add this balsamic reduction on salads, fruit, desserts etc.
Recipe by
True Forage
at https://trueforage.com/summer-fruit-salad-peach-tomato-and-avocado/